Venezuela election: Chavez and Capriles launch campaigns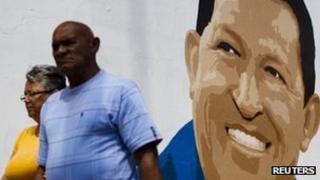 Venezuelan presidential rivals Hugo Chavez and Henrique Capriles have formally started campaigning for October's election.
Mr Chavez, seeking a third six-year term at the age of 57 but weakened after a battle with cancer, met supporters in the state of Carabobo.
Mr Capriles, 39, was visiting border regions to underline his message that remote communities have been neglected.
Opinion polls suggest that Mr Chavez has a double-digit lead.
Under his left-wing rule, the oil-rich country has followed an economic and foreign policy which put it at loggerheads with Washington.
Oil revenues have allowed him to fund programmes for the poor, but critics accuse him of populism and authoritarianism.
Split screen
"My God, give us health and life to lead these people to victory!" Mr Chavez wrote on Twitter on Sunday.
In Carabobo, he greeted crowds of supporters from a lorry, waving and blowing kisses.
In a tweet of his own, Mr Capriles called the campaign a "countdown to opening the door to the future".
The centre-left Miranda state governor visited the remote south-eastern community of Santa Elena on the Brazilian border before travelling to La Guajira on the border with Colombia.
"My commitment is to reach the most forgotten people," he said in a speech to a small group of indigenous inhabitants in Santa Elena.
"Over there nearby is Brazil. Its government understood how to work. Brazil has taken off. Now it's Venezuela's turn."
Reuters news agency reported that state media, where Mr Capriles is normally mentioned only in insults, covered some of his activities on Sunday.
At one point, a split screen showed the rival rallies under the captions "Candidate of the Fatherland" for Mr Chavez and "Candidate of the Right" for Mr Capriles.
The election, which is also being contested by six other candidates, is scheduled for 7 October.