Venezuelan doctor accused of revealing state secrets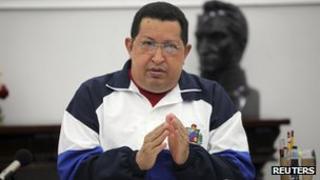 A doctor working in the presidential palace in Venezuela has been arrested on suspicion of revealing state secrets, authorities say.
Prosecutors accused Dr Ana Maria Abreu of divulging political or military secrets over the past two years.
They made no reference to President Hugo Chavez, who has undergone treatment for an undisclosed cancer.
Dr Abreu, who has worked at the presidential palace for 12 years, is not his personal physician.
A statement from the attorney general's office said Dr Abreu had been detained last week.
The statement said she was accused of breaking the law on revealing political or military secrets that could damage the country, but gave no further details.
One of Dr Abreu's lawyers, Theresly Malave, said that the accusations were completely unfounded, given that there was no indication of what information was supposed to have been leaked nor what damage had ensued.
Ms Malave said Dr Abreu's work involved caring for people who had lost their homes during torrential storms and were housed in parts of the presidential palace.
The doctor did not attend any palace personnel, Ms Malave said, and had no access to state secrets.
Dr Abreu is the sister-in-law of a prominent government critic Rocio San Miguel, who heads a group monitoring security and defence issues in Venezuela.
Her defence team say her arrest is politically motivated.
President Chavez, who is running for re-election in October, has a wide lead over his nearest rival, Henrique Capriles, according to the opinion polls.
In May, he said that he had successfully completed radiation therapy for cancer.