Brazil gunmen kill eight amid football celebrations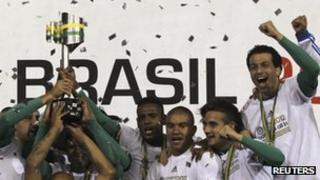 Eight people have been shot dead in greater Sao Paulo during celebrations for the win by local team Palmeiras in the Brazilian Cup final, police say.
Men on motorbikes and in cars drove through the town of Osasco, opening fire in different locations.
Police said the attackers took advantage of the partying to disguise their gunshots.
The victory meant Palmeiras qualified for the Copa Libertadores, South America's top club competition.
The gunmen opened fire indiscriminately in several parts of Osasco, which lies within the Sao Paulo metropolitan area, police said.
Seven people were killed on the spot and one later died in hospital. Another person was injured.
The shootings happened close to bars where drugs are sold, officers said.
There was no indication those killed were targeted for being football fans nor that the shootings were linked to the win by Palmeiras.
"The criminals took advantage of the time when people were setting off fireworks to disguise the sound of their guns," a police statement said.
Palmeiras triumphed in the cup final against Curitiba, winning 3-1 on aggregate.