First Miami-Cuba cargo ship in 50 years reaches Havana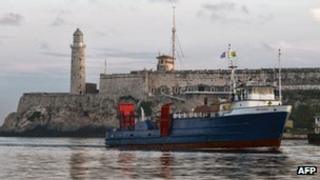 The first cargo ship to sail from Miami to Cuba in 50 years has arrived in Havana.
The ship was carrying humanitarian supplies such as food and medicine that are exempt from the US trade embargo against the communist-run island.
Its cargo was made up of charitable donations and gifts to relatives from Miami's large Cuban exile population.
The vessel will now operate a weekly service linking Miami and Havana for the first time since 1962.
Similar cargo services to Cuba already operate from other US ports.
The Bolivian-flagged vessel Ana Cecilia entered Havana Harbour on Friday morning.
The International Port Corporation - which is operating the service - obtained a special permit from the US Treasury's Office of Foreign Assets Control, which enforces the trade embargo against Cuba.
"We have to create bridges like this, it is the most important thing we can do between the two peoples," company spokesman Leonardo Sanchez-Adega told Reuters news agency.
The cargo service costs around $12 (£8) per kilo.
US President John F Kennedy imposed a trade embargo on Cuba's communist government in 1962.
In 2009 President Barack Obama relaxed the restrictions, making it easier for Cuban-Americans to visit and send money to relatives on the island.