Argentine police arrested over Salta 'torture video'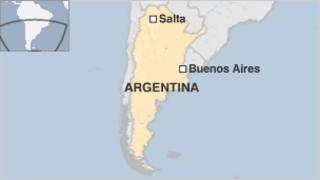 Six policemen have been arrested in Argentina after video footage emerged showing them apparently torturing two prisoners.
The footage shows police interrogating two men, who were stripped to their underwear with their hands tied.
One of the detainees is suffocated with a bag until he collapses, while another has water poured over him.
The police officers were part of a drugs squad operating in the northern city of Salta.
Announcing the arrests in Salta, Argentina's security minister Eduardo Sylvester said they were made after a "quick investigation".
He said the men were not representative of the force in Salta.
"They are not policemen, they are criminals," he said.
Damning footage
The footage appeared on the websites of national newspapers Clarin and La Nacion.
It is believed to have been shot last year, but only became public when it was uploaded to the internet.
Five officers were arrested on Thursday, and a sixth on Friday.
The latest officer to be arrested is suspected of having taped the video on his mobile phone, although it is not clear if he was also the one to upload it to the internet.
Stories of police abuse are particularly resonant in Argentina, where security forces used torture and enforced disappearances under military rule in the 1970s and 1980s.
Adolfo Perez Esquivel, who won a Nobel Peace Prize for his work investigating human rights abuses under military rule, told local radio that the mistreatment of suspects was "endemic" throughout the security forces.
The judge in charge of the case said he was investigating if more officers were involved.
Daniel Segura, the head of the police station where the abuses allegedly happened, said it was "lamentable that we'll be known for this".
He said some of those wearing police uniforms did not have a true calling for the profession.