Colombian 'Farc rebels' blow up bridge in San Vicente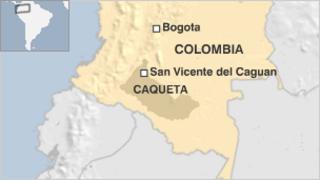 Officials say members of Colombia's largest rebel group, the Farc, have blown up a bridge in San Vicente del Caguan, in Caqueta province.
No-one was injured in the explosion, but the town is now virtually cut off.
San Vicente was at the centre of the demilitarized zone, a Farc safe haven created during peace negotiations with the government more than a decade ago.
After the negotiations failed, government forces retook the area but it remains a rebel stronghold.
The explosion in the early hours of the morning comes as Colombians celebrate the 202nd anniversary of their independence from Spain.
Officials said Farc rebels were behind the attack.
Repeat target
They said that over the past few months, they had seized explosives from the rebels and intercepted communications which indicated they were planning such attacks.
San Vicente can now only be reached by air or via an unpaved road.
The road leading over the Riecito bridge was used by multinational oil company Emerald Energy to transport oil from its oil fields to the provincial capital, Florencia.
Emerald Energy had suspended the transports in March after one of its drivers was killed by the rebels.
Their convoys have been targeted more than two dozen times since the beginning of the year.
In recent years, Colombian government forces have had considerable success against the rebels in the long-running civil conflict.
Since Farc leader Alfonso Cano was killed in a bombing raid in November, their new leader, Timoleon Jimenez, seems to have returned to classic guerrilla tactics, including the bombing of key communication and transport links.