Peru President Humala reshuffles team amid mine protests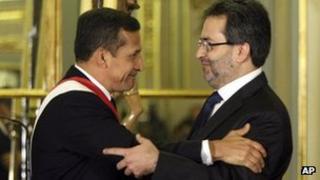 Peru's President Ollanta Humala, facing simmering environmental and social conflicts, has reshuffled his cabinet in a widely expected move.
Human rights lawyer and former Justice Minister Juan Jimenez replaces Oscar Valdes as prime minister.
Mr Valdes, a former army officer, had faced criticism for his crackdown on protesters opposed to a huge gold mine.
Clashes over the US-financed Conga project flared again earlier this month, leaving five people dead.
Mr Jimenez is the third prime minister appointed by President Humala, who completes his first year in office on 28 July.
The previous prime minister, Mr Valdes, had been brought in late last year to pursue a tougher line amid continuing disputes over natural resources.
The Conga gold mine in Cajamarca, financed by American firm Newmont, represents Peru's biggest foreign investment project. Protesters region say it will destroy water supplies.
Key figures
"This will be a cabinet of dialogue," Mr Jimenez said.
"We will move closer to the people. We will readdress the issue of social conflicts in Peru."
The BBC's Mattia Cabitza, in Cajamarca, says that as a civilian with a human rights background, Mr Jimenez is viewed as a better choice to head a growingly unpopular government which has overseen several states of emergency.
But Mr Jimenez's appointment may not by itself quell the unrest.
He backed the president's decision to suspend civil liberties and declare a state of emergency in three provinces in the area where protests took place.
Mr Jimenez's appointment was part of a broader reshuffle with six new members to a 19-member cabinet.
Two key figures, Finance Minister Luis Miguel Castilla and Mines and Energy Minister Jorge Merino, kept their posts.
Mr Humala's approval rating has fallen to a new low of some 40%.