Gunman kills four at festival in southern Mexico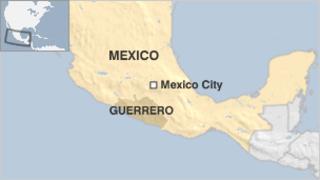 A gunman has killed at least four people and injured another nine at festivities in Huehuetan, in the southern Mexican state of Guerrero.
Witnesses described how an armed man walked up to a group of people celebrating the feast of St James the Apostle and shot dead two men and two women, one of them 17.
Police said they had identified the attacker but had not yet been able to apprehend him.
They motive for the attack is unknown.
Police said they believed the attacker was drunk and had been targeting one man in particular, and that the remaining victims were killed as the man opened fire on his intended victim.
Southern Mexico has generally been spared the drug-related violence which has blighted much of northern Mexico.
Across the country, more than 55,000 people are estimated to have died in drug-related violence since President Felipe Calderon came to power in December 2006.