Cuba car crash fallout turns focus on dissidents' funds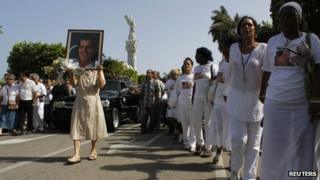 It is just over a week since Oswaldo Paya, one of Cuba's most prominent dissidents, was killed in a car crash.
In that time, the authorities have gone from fending off his family's allegations of foul play to parading proof that he received foreign funding for his political activities.
Communist-run Cuba bans all opposition parties and routinely dismisses vocal government critics as mercenaries, sponsored to subvert the revolution.
But the latest revelation about Mr Paya receiving overseas money appears to have sparked a new government campaign to discredit dissenters and warn them that Cuba will not permit any kind of Arab Spring to spread here.
It began on Monday when one of the survivors of the car crash, Jens Aron Modig, was brought to speak to journalists at an official news conference in Havana.
Mr Modig is a member of Sweden's Christian Democratic Party.
Still in police custody, he admitted he had travelled to Cuba twice to deliver money to Mr Paya and "share experiences" with young political activists.
Both he and - in a video played to the press - the driver of the car, Angel Carromero, confirmed that the crash which killed Mr Paya was an accident and their vehicle was not forced off the road.
Mr Carromero, a member of the youth branch of Spain's governing Popular Party, is still being held as an investigation into possible murder charges continues.
After a week behind bars, Mr Modig was promptly released and flew home the next day.
Foreign funding
Cuba has been busy using his statement to make its point about dissidents ever since.
"They are vulgar agents paid, supplied and instructed by the government of the United States and its allies. They betray their country for cash," was the view of a lengthy editorial in the Communist Party newspaper Granma on Tuesday.
"Paya's death is tragic, but it led to a revelation that undermines his standing," believes Stephen Wilkinson, editor of the International Journal of Cuban Studies.
Many dissidents argue that they accept foreign support because they are barred from jobs in a predominantly state-controlled economy; others see no reason to refuse help if they are acting according to their own principles.
But Mr Paya always made a point of his independence. In particular he refused funding from the US, as Miami has long been the launch pad for attempts by Cuban exiles to oust the Castros from power.
"The fact there was a conspiracy by the right-wing in Sweden and Spain to assist him is very significant. It delegitimises the movement completely and the Cubans will go heavy on that," Mr Wilkinson says.
Henrik Ehrenberg, a spokesman for Sweden's Christian Democratic Party told the BBC that any cash carried by its members to dissidents is "private money".
But Mr Ehrenberg added that "quite a number of Christian Democrats" had visited Cuba to show "moral support and solidarity" for Mr Paya's civil rights movement.
Cuba sees such things differently.
Mr Modig's confession has sparked a wave of official reports of what the government styles as foreign-backed plots to foment an uprising.
On Tuesday night, TV viewers were shown excerpts from interviews with young Mexican men who recounted being sent to Cuba in March to disrupt a visit by Pope Benedict.
The Mexicans named well-known Cuban dissidents they said they had been instructed to contact and call "onto the streets (… to) take over churches to demonstrate against the government and show that it is oppressing Cuban citizens".
The report alleged that they were recruited by Cuban exiles in Miami but arrested before the Pope arrived in Havana. Their confessions were apparently held back for an opportune moment.
Now it all appears intended to warn supporters of Cuba's opposition activists that their "activity against the constitutional order" is well known.
'Not Libya'
But the strong reaction may also suggest a degree of concern.
As conflict rages in Syria, Cuba has stressed what it sees as yet more foreign interference in a sovereign state: a popular uprising provoked by influence-hungry western powers, unrelated to any grievances on the ground.
And just last week President Raul Castro himself warned that "groups" backed by Cuba's ideological enemy, the US, were attempting to provoke in Cuba "what happened in Libya and what they are trying to do now in Syria".
"Our vocation is peaceful," Mr Castro stressed, "but we will defend our people."
Tuesday's Granma editorial talked of attempts to deliver 10,000 mobile phones to the island and distribute information about the Arab uprisings online.
"They are probably worried about that," opposition activist Antonio Rodiles, who was detained at Mr Paya's funeral and held for 24 hours before being released without charge.
But Mr Rodiles believes Cuba is far from any similar uprising.
It is a view shared by diplomats in Havana. Internet access remains very limited even in the capital - a recent seminar on using social networks like Facebook and Twitter attracted just a few dozen activists - and dissident groups, they say, remain divided and heavily infiltrated by state security.
"I don't think they [the authorities] are overly concerned. I think they know what's going on and they have a handle on it," argues Dr Wilkinson.
That is certainly the message people here are being sent this week, as Cuba affirms that the death of Oswaldo Paya was an accident and works to discredit his political demands.