Q&A: Brazil's 'big monthly' corruption trial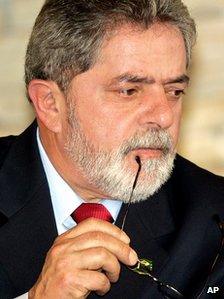 Dozens of defendants went on trial at the Brazilian Supreme Court on 2 August 2012 in what was billed as one of the biggest political corruption scandals in the country's recent history.
The judges considered allegations that, between 2003 and 2005, politicians and officials diverted public funds to buy political support for the government of the then President, Luiz Inacio Lula da Silva. The scheme became known as "mensalao" or the "big monthly" allowance.
Some 25 defendants were convicted, among them former senior members of the governing Workers Party (PT). The first arrests happened nearly a year later, between 15 and 16 November 2013.
Related Internet Links
The BBC is not responsible for the content of external sites.