Brazil police shoot man in Rio near Olympic site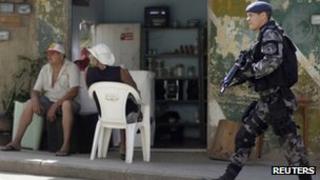 Brazilian police have begun an investigation into the shooting of an unarmed man in Rio de Janeiro.
The incident took place on Tuesday in Barra da Tijuca, the neighbourhood where most of the Olympic events will be held in 2016.
Video footage taken from a nearby building shows a police officer shooting the man in the foot after marching him to a vacant plot.
The man had attempted to kidnap a woman and her young nephew.
Three other men were arrested and paraded before the media.
Damage done
Police initially said the other man had been shot in an exchange of fire and had been taken to hospital. His identity was not revealed.
Ballistic experts say another office fired shots against a nearby wall in an attempt to fake an exchange of fire.
Rio's police commissioner, Erir Costa Filho, said the incident had done huge damage to the trust-building measures the police have undertaken with poorer communities in the last few years.
Police forces, with the backing of the army, have taken control of many of Rio's slums, or favelas, which for decades were controlled by powerful drug trafficking gangs.
In most communities, the forces were welcomed by residents and gained their trust.
The favela programme was launched after Rio won the bid to host the 2016 Olympics.
Brazil will also host the 2014 football World Cup, with the final match due to be played in Rio's Maracana stadium.
Rio de Janeiro state security secretary Jose Beltrame - the mastermind of the pacification programme in the slums - ordered the police to open procedures to expel the officers involved from the corporation.
"A police force working towards bringing peace to the favelas cannot have officers with such behaviour in its ranks," he said in a note.