Honduras bans guns in violence-hit Colon region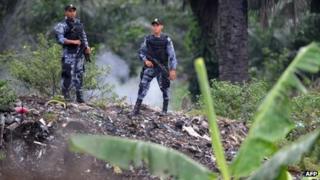 The Honduran Congress has voted to ban the carrying of weapons in a region beset by land disputes and drug-trafficking violence.
The measure covers Colon province, on the country's Caribbean coast, and home to some of the country's most productive farmland.
The new law prohibits the possession of guns in public, but exempts police, soldiers and private guards.
Honduras has the world's highest murder rate: 86 murders per 100,000 people.
The measure passed by Honduran legislators cancels gun permits and also prohibits transporting weapons in vehicles in Colon.
The area has seen a jump in violence, attributed in part to drug gangs operating there.
There is also an ongoing conflict over land, focussed on the fertile Bajo Aguan valley which is dominated by palm oil plantations.
"The bloodshed that continues taking place must stop and the disarmament of the local population is needed," said Security Minister Pompeyo Bonilla.
Dozens of people have been killed in land conflicts over the past couple of years, with farmworkers demanding to be given their own plots.
The violence has prompted the authorities to send extra security forces.
Farmworkers' representatives said they would welcome the ban when it also covered private security guards.
Without guards being disarmed too, farmworkers would be at their mercy, they said.