Jamaicans elated at Usain Bolt Olympics victory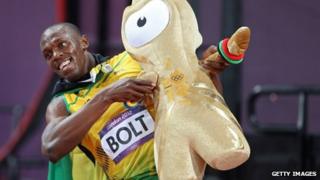 Jamaican social media users have been expressing their joy at Usain Bolt's 100m victory at the London Olympics. They voiced pride that it came on the eve of the 50th anniversary of Jamaica's independence from Britain.
Readers are voicing their admiration for Bolt on Jamaica's two major newspaper websites.
The Jamaica Observer website invited its readers to tweet congratulations for Bolt under the hash tag #BoltLegend on Twitter.
"Alexander" tweets: "There will not be another sprinter like you in our lifetime!!! You are a legend! #BoltLegend #teamjamaica". Another Twitter user, "djsirvivor", tweets "Who fasta than Jamaica??? Nobody!!!! #BoltLegend".
On the newspaper's website, "Doug Angell" expresses admiration for Bolt's talent and "for bringing the sport to a new level". The reader adds: "You show that hard work respect and integrity can produce great results".
National pride
The fact that Bolt's gold medal victory came on the eve of Jamaican independence anniversary provides particular pleasure for many commenting, who see it as a fitting success.
"Paul Muschett" writes on the Jamaica Observer website that Bolt has "taken us to higher heights on the eve of Jamaica 50. There is no more fitting present to us as a nation at this time."
Posting on The Gleaner website, a user called "Justice" says that Bolt's gold medal and Yohan Blake's silver are "the best gift for Jamaica's 50 independence celebrations." Another user, "Warzandefirst", concurs: "Yes mi boss yu dweet it [did it] again...best gift ever for Jamaica 50".
National pride was in evidence from many of those commenting. "You make us proud Usain. Thank you for representing our country… Feels good being a Jamaican right now," says a Jamaica Observer reader called "Aileen".
Small country, big talent
Several people also express pride that the Olympic champion comes from a relatively small country.
"Wilfred Gray" writes on the Jamaica Observer website: "Congrats and more congratulations! On this our fiftieth independence celebration, what recognition, fastest human being on the planet from little Jamaica".
"Ronnie C" expresses a similar sentiment on The Gleaner website.
"Congratulations Team Jamaica! You have done us proud. We little but we talawah!", the user says. "Talawah" means plucky or feisty in Jamaican patois.
Lightning 'Bolt'
Several users make play of the Olympic champion's apt surname, with some comparing his Olympic record performance to a bolt of lightning.
On The Gleaner site "Maurice" writes: "To the world! Lightning certainly can strike twice. Happy 50th."
Another reader, "mx68", reworks the classic birthday tune to praise Jamaica's victory, posting: "Happy Independence to you! Happy Independence to you! Jamaica, as you BOLT into a great future. Happy Independence to you!"
BBC Monitoring selects and translates news from radio, television, press, news agencies and the internet from 150 countries in more than 70 languages. It is based in Caversham, UK, and has several bureaux abroad. For more reports from BBC Monitoring, click here