Explosives found in Honduras jail sweep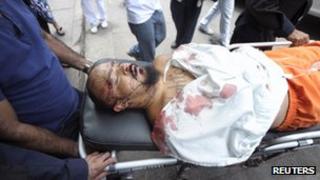 Prison authorities in Honduras say they have found explosives and weapons in a search of a prison in Francisco Morazan province, north of Tegucigalpa.
The officers discovered a submachine gun, pistols, hand grenades and home-made explosive devices in a wing of the prison where members of the Mara 18 street gang are locked up.
They said the inmates seemed to be preparing to blow up part of the jail.
Honduras is notorious for its overcrowded prisons.
In February, more than 350 people died when a fire broke out in a prison in Comayagua, north of Tegucigalpa.
Police spokesman German Rivera said there would be an investigation into how the weapons could have been smuggled into the jail and by whom.
The officers also found drugs, alcohol and more than 500 rounds of ammunition.
Mr Rivera said those responsible would be severely punished and could even have their jail terms increased.
Honduras, which has the world's highest murder rate and a huge gang problem, struggles to house its inmates.
The country's 24 jails, built for some 8,000 inmates, are currently holding more than 12,000.