Mexico navy arrests suspect over killing of journalists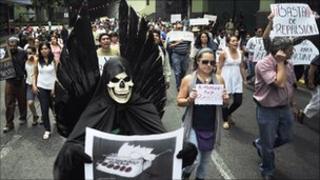 Mexican security forces have arrested a man suspected of killing three photojournalists in May.
Juan Carlos Hernandez Pulido is accused of working as a hired killer for the Jalisco drug cartel.
Marines captured him in the port city of Veracruz on Friday, but only made the arrest public on Monday.
Inside his car they found ID cards belonging to Irasema Becerra, whose body was found alongside that of three Veracruz photojournalists in May.
The navy said they received a tip-off about an armed man allegedly selling drugs from a car in Veracruz.
'Incriminating documents'
Marines managed to detain Mr Hernandez Pulido, also known as "Bertha".
They said a search of his car revealed more than 150 small bags filled with drugs including cocaine, crack cocaine and marijuana.
They also found documents belonging to Irasema Becerra, an administrator for Notiver.
Ms Becerra was found dead on 3 May alongside her photojournalist boyfriend Guillermo Luna, his uncle and fellow photojournalist Gabriel Huge, and former photojournalist Esteban Rodriguez.
Their remains had been dumped in bags in a canal in the Boca del Rio municipality in Veracruz.
The motive for the killing remains unclear.
Dozens of journalists have been killed in Mexico over the past decade, but there are conflicting accounts of how many of them were killed as a direct result of their profession.
Pressure groups agree that whatever the exact figures, Mexico has become one of the most dangerous countries for journalists in the world.