Mexico violence: Monterrey bar stormed by gunmen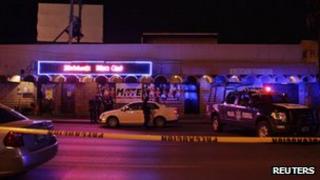 The authorities in Mexico say at least eight people were killed when heavily armed men stormed a bar in the northern city of Monterrey on Monday night.
The police are investigating the possible motives for the attack.
Some of the victims were employees of the bar, in a central area of the city, once one of the safest in Mexico.
Recently, Monterrey has been badly hit by a bloody turf war between two of Mexico's powerful drug gangs - the Zetas and the Gulf cartel.
Police are investigating the possible motives for the attack.
Four people died in the Matehuala bar. The others were taken to hospital, where they died of their wounds.
Beheaded bodies
Monterrey is the capital of Nuevo Leon state, which borders the American state of Texas.
Formerly one of the safest cities in Mexico, it has been the scene of several massacres since the cartels intensified their battles for control of trafficking routes and drug markets.
A year ago, gang members set fire to a packed nightclub in Monterrey, killing more than 50 people in a matter of minutes.
In May, 49 beheaded and mutilated corpses were found dumped by a roadside near the city.
A local leader of the Zetas was later arrested and blamed for the massacre.
Taxi drivers have also been killed in the city either for refusing to pay "protection" money or for being suspect of working for rival gangs.
More than 55,000 people have died in drug-related violence in Mexico since 2006, when President Felipe Calderon deployed the army to combat the cartels.