Bolivia lynching: Brazil condemns deaths in San Matias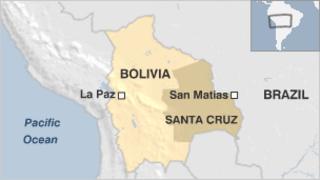 Brazil's foreign ministry has voiced its deep concern after two Brazilian citizens were dragged from a local prison in Bolivia and burned alive.
A foreign ministry statement urged the Bolivian authorities to carry out a "swift and rigorous" investigation.
The two men had been jailed after allegedly shooting dead three Bolivians in a dispute, said police in San Matias, which is on the Brazil border.
Drug trafficking and car smuggling are rife in the region, local media say.
A group of people besieged the prison in San Matias on Tuesday night, overcoming police guards and dragging Brazilians Rafael Max Dias and Jefferson Castro Lima onto the street.
They beat the two men and then set them on fire, the local police chief said.
"It's barbarous what occurred... but people are tired of so much insecurity. No-one is in charge of this town, where criminals do whatever they please," town councillor Claudio Rojas told the Associated Press by telephone from San Matias.
Vehicles are often stolen in the neighbouring Brazilian state of Mato Grosso and smuggled across the border to Bolivia to be sold or exchanged for drugs.
The Brazilian foreign ministry said it had instructed its embassy to convey its repudiation of the crime to the Bolivian authorities and call on them to adopt measures to prevent a recurrence.