Mexico City replaces airport police after June shooting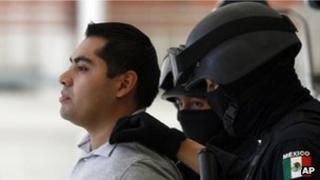 All the police officers guarding Mexico City's international airport have been replaced following a shooting two months ago in which three officers were killed by some of their colleagues.
Officials said 348 agents had been reassigned to other states.
They said the new officers had gone through thorough background checks.
The shooting happened in June when three policemen tried to arrest fellow agents suspected of involvement in a cocaine trafficking ring.
Regional Security Chief for the Federal Police Luis Cardenas Palomino said the new officers had passed "double vetting and background checks".
The 348 agents who had previously guarded the international airport had been assigned to other duties in other states, Mr Cardenas Palomino said.
'Inside job'
The decision was taken after a deadly shooting at Terminal 2 of the airport on 25 June.
Three officers approached a group of their colleagues to arrest them on suspicion of being part of a drug-trafficking ring operating at the airport.
The suspects opened fire and killed two of the detaining officers on the spot, a third died of his injuries in hospital.
Police have detained one the suspects, two remain at large.
No civilians were injured in the shooting, but the incident in the terminal's food court caused panic with passengers diving for cover.
At the time, police thought only two officers had been involved in the shooting, but they later extended their search to include a third agent.
The incident shocked people in Mexico City, where shootings in public spaces in broad daylight remain rare, despite growing violence seen in other parts of the country, in particular the states bordering the United States.