In depth: Media in Venezuela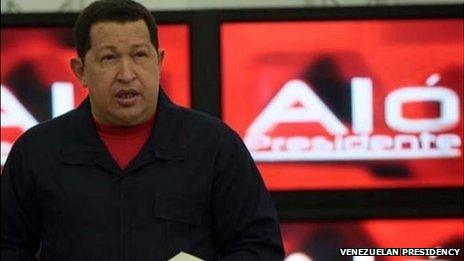 Venezuela's media landscape has been marked by the deep division between the outlets that attack President Hugo Chavez and those that support him.
While the government accuses opposition journalists of "media terrorism", they complain about intimidation.
According to Venezuela's Communication Ministry (Minci), some 70% of Venezuela's radio and TV stations are in private hands with just under 5% are state-owned. The rest are community media organisations, most pro-government.
The most popular TV channels are privately-owned Venevision and Televen. Both used to be vociferous opponents of the government, but have toned down their criticism in recent years.
A decade ago, VTV was the only state TV channel. Today the government controls five more stations.
Nevertheless, state TV enjoys just 5.4% of the audience share, according to the media research company AGB Panamericana.
Many Venezuelans prefer the programmes on pay TV, with 41% of households subscribing.
However, President Chavez frequently reaches beyond the state TV's audiences by delivering speeches, known as cadenas, which must be carried on almost the entire national broadcast system.
During the election campaign, a "cadena" interrupted a broadcast by opposition candidate Henrique Capriles, who is running in the 7 October presidential poll.
Commercial outlets dominate the radio sector, although the government funds a number of stations and community radio organisations.
The main Venezuelan newspapers are private companies, and are often critical of the government.
However, they do not have a wide readership. In 2009, centre-left leaning Ultimas Noticias printed 260,000 copies per day, according to the most recent data available to Human Rights Watch.
The circulation of centre-right El Nacional and El Universal was 120,000 and 110,000 copies per day respectively.
The Venezuelan media are regulated by the controversial Law of Social Responsibility in Radio and Television (Resorte).
The government promoted it as a means of keeping sex and violence off the airwaves when children might be watching, and to increase the proportion of Venezuelan-produced programming.
However, critics see in it a strategy to silence opposition media by limiting their content to soap operas, cultural and educational programmes and a sanitised version of the news before 11pm.
Opposition broadcasters have been under pressure since a short-lived coup against Mr Chavez in 2002, in which he says they played a key role.
Several critical TV and radio networks have been closed.
In 2009, 34 radio stations had their licences revoked, officially for "technical and administrative reasons."
RCTV, once Venezuela's most watched station, lost its terrestrial frequency in 2007, because of what Mr Chavez called its ongoing efforts to destabilise the government. It resumed broadcasting on cable as RCTV Internacional.
The channel was taken off air in 2010 for refusing to carry Mr Chavez's obligatory broadcasts. It has been unable to broadcast via air or cable since then.
The only terrestrial TV station still openly critical of the government, Globovision, was heavily fined for tax evasion and broadcasting on unauthorised frequencies in 2009. It was fined in 2011 for a report about a prison riot that the authorities said "promoted hatred and intolerance for political reasons."
The government accuses the opposition media of manipulating information and "poisoning society".
Internet and social media
The internet is regulated by broadcasting legislation and Conatel can order service providers to restrict access to websites or messages which breach the law.
The government says this is to protect people from cyber crime.
Social media are relatively unencumbered by government restrictions.
With Venezuelans being among the keenest Twitter and Facebook users in the South America, politicians have made social media central to their campaign strategies.
President Chavez, with some 3.5 million Twitter followers, posts regularly and his messages can be quite emotional. He tweeted he cried when the Venezuelan hero Simon Bolivar was exhumed two years ago.
He has replied to other users, who may be requesting jobs, hospital operations or houses.
The Twitter accounts of several prominent opposition activists, but also those of President Chavez and his allies have been hacked and used to send bogus messages.
Although the Venezuelan constitution provides for freedom of the press, international media watchdogs regularly accuse the government of intimidation.
In 2009, Diosdado Cabello, then the head of the country's media regulator Conatel, said that freedom of expression should not be regarded as "the most sacred of freedoms."
Related Internet Links
The BBC is not responsible for the content of external sites.