Brazil's 1970 goalkeeper Felix dies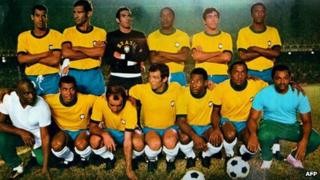 The goalkeeper of the 1970 World Cup winning team in Mexico, Felix, has died at the age of 74.
A heavy smoker, Felix Mieli Venerando died of emphysema in a hospital in his home town, Sao Paulo.
Criticised at home as a weak link prior to the Mexico World Cup, he returned home as one of the heroes of the team that many hail as the best in history.
A minute of silence will be observed at all Brazilian league matches this weekend to remember Felix.
Tributes have been paid to the former goalkeeper by former teammates in the national squad and his former teams, Portuguesa and Fluminense.
Oldest player
"He was a great friend and a wonderful person," said Carlos Alberto, captain of the 1970 team.
"Felix played a great match against England in Mexico. He was the oldest player in the squad and his experience was extremely valuable during the tournament."
International striker Jairzinho, who played against Felix in Rio for local rivals Botafogo, said Felix's health had deteriorated recently.
"He smoked a lot. I'm very sad, but that's life. He was one of the most experienced players in 1970, along with Pele and Gerson. He gave support not only to younger players in Mexico but also to the manager and other senior squad members."
Felix won more than 40 caps for Brazil.
In the 1970 tournament, the Brazilian team won all its matches and became football world champions for the third time.
"The supporters should be eternally grateful for the contribution Felix gave to the national team," Brazilian Football Confederation (CBF) president Jose Maria Marin said in a statement.