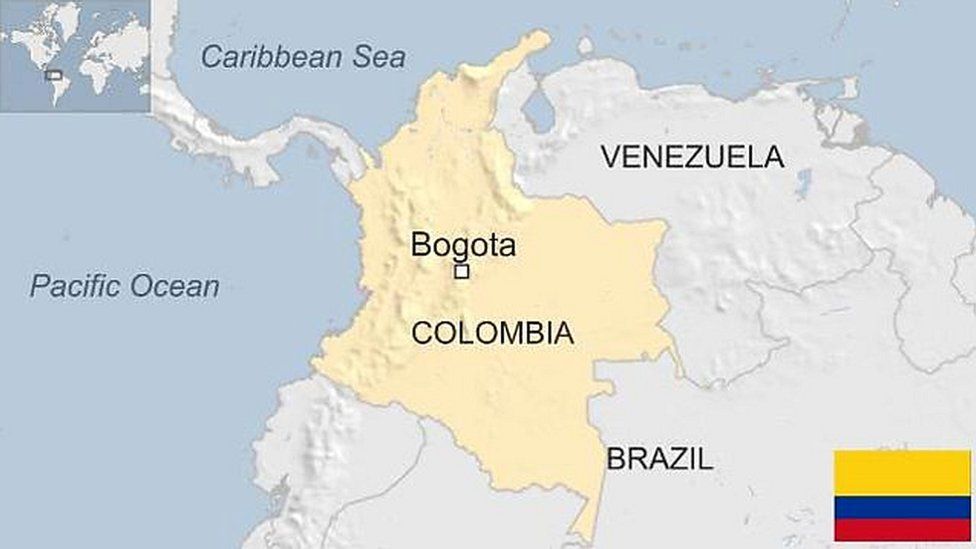 Colombia has significant natural resources, and its culture reflects the indigenous Indian, Spanish and African origins of its people.
But it was also ravaged by a decades-long violent conflict involving armed groups, drug cartels, and gross violations of human rights up until 2002.
The fourth largest country in South America and one of the continent's most populous nations, Colombia has substantial oil reserves and is a major producer of gold, silver, emeralds, platinum and coal, but it is also marked by a highly stratified society.
REPUBLIC OF COLOMBIA: FACTS
Capital: Bogotá
Area: 1,141,748 sq km
Population: 52.1 million
Languages: Spanish, English, plus other languages
Life expectancy: 72 years (men) 78 years (women)
The former mayor of the capital Bogota and a rebel fighter in the 1980s, Senator Gustavo Petro became Colombia's first left-wing president when he won the June 2022 election by a narrow margin.
The result marked a major change for the country, which for decades had been led by moderates and conservatives.
Colombian journalists have for decades faced intimidation from rebel groups, drug traffickers and paramilitaries.
Peace accords were signed in 2017, but threats against the media remain, says Reporters Without Borders.
Media ownership is concentrated among a handful of privately-owned groups. Television is the main news source.
There are no curbs on online access, but limited infrastructure and high prices are obstacles to internet take-up.
Some key dates in Colombia's history:
1525 - Spain begins conquest of Colombia.
1536-38 - Spain establishes the settlement of Santa Fe de Bogota, which subsequently becomes known as Bogota; becomes part of the Spanish vice-royalty of Peru.
1718 - Bogota becomes the capital of the Spanish vice-royalty of Nueva Granada, which also rules Ecuador and Venezuela.
1819 - Simon Bolivar defeats Spanish at Boyaca. Republic of Gran Colombia formed with Ecuador, Panama and Venezuela.
1829-30 - Gran Colombia dissolved when Venezuela and Ecuador split off, leaving present-day Colombia and Panama a separate state known as Nueva Granada.
1861-85 - Liberal Party rule sees country divided into nine largely autonomous entities and the church separated from the state.
1885 - Start of 45 years of Conservative Party rule during which power is recentralised and church influence restored.
1899-1902 - "The War of the Thousand Days": around 120,000 people die in civil war between Liberals and Conservatives. Panama becomes an independent state.
1948-57 - "La Violencia": Civil war between the Liberals and Conservatives kills some 250,000-300,000 people before being ended when the two parties form the National Front coalition.
1964 - Leftist National Liberation Army (ELN) and Maoist People's Liberation Army (EPL) founded.
1966 - Revolutionary Armed Forces of Colombia (Farc) set up.
1971 - Left-wing M-19 guerrilla group emerges.
1978 - President Julio Turbay begins intensive fight against drug traffickers.
1984 - Campaign against drug traffickers stepped up following assassination of justice minister.
1993 - Pablo Escobar, Medellin drug-cartel leader, shot dead while trying to evade arrest.
2000 - "Plan Colombia" garners almost $1bn in mainly US military aid to fight drug-trafficking and rebels who profit and protect the trade.
2003 - Fighters from right-wing United Self-Defence Forces of Colombia (AUC) begin to disarm.
2004 - Farc's Ricardo Palmera, the most senior Colombian guerrilla ever captured, is jailed for 35 years.
2005 - Exploratory peace talks with the second biggest left-wing rebel group, the National Liberation Army (ELN), begin in Cuba.
2008 - Farc announces death of its leader and founder, Manuel Marulanda.
2016 - The government and Farc rebels sign a historic peace accord ending 52 years of armed conflict.
2017 - Farc rebels formally end their existence as an armed group.
2022 - Former rebel Gustavo Petro is elected Colombia's first left-wing president.
Related Internet Links
The BBC is not responsible for the content of external sites.