Colombia arrests suspects in attack on Fernando Londono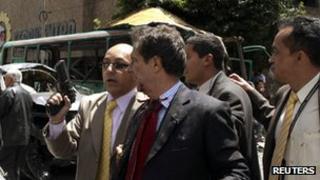 Police in Colombia have arrested five men suspected of involvement in the May 2012 attack on the former interior minister, Fernando Londono.
Mr Londono was not seriously hurt, but his driver and one of his bodyguards were killed when a man attached a mine to his car at traffic lights in the capital, Bogota.
Police say the suspects belong to criminal gangs which "work at the behest of terrorists".
One of those detained is only 16.
Police had originally blamed Colombia's largest rebel group, the Farc, for the attack.
But Prosecutor Eduardo Montealegre said it was not yet clear if the men, who were arrested in simultaneous operations in the western city of Cali and in the capital Bogota, were acting for the rebel group.