Costa Rica country profile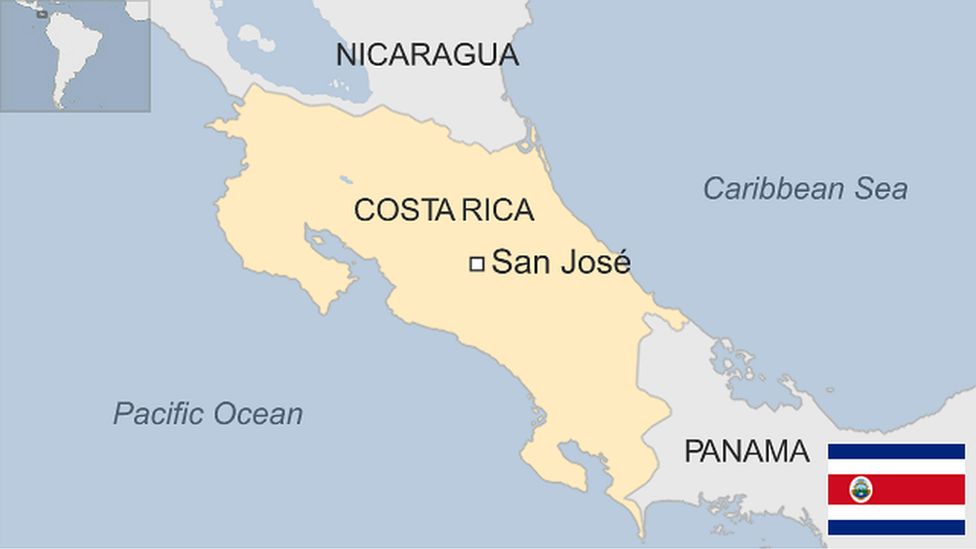 Costa Rica has coastlines on the Pacific Ocean and the Caribbean.
One of the most stable countries in the region, it is also the only Central American state without a permanent standing army, after it was abolished in 1948.
It also enjoys one of the highest standards of living in the region, although a significant percentage of Costa Ricans still live below the poverty line.
Its rich biodiversity makes Costa Rice a popular destination for eco-tourists, and tourism in general is the top source of income.
REPUBLIC OF COSTA RICA: FACTS
Capital: San José
Area: 51,100 sq km
Population: 5.2 million
Languages: Spanish, also Mekatelyu, Bribri, Jamaican Creole
Life expectancy: 77 years (men) 82 years (women)
President: Rodrigo Chaves
Economist Rodrigo Chaves won the presidential election in April 2022, beating former President José María Figueres.
The 60-year-old ran on a promise of shaking up traditional party politics, and tapped into discontent with Costa Rica's struggling economy.
Costa Rica has a lively press and broadcasting scene. It also has the best record of respecting freedom of expression in Latin America, says Reporters Without Borders.
Key dates in Costa Rica's history:
1502 - Christopher Columbus visits the area, naming it Costa Rica, (Rich Coast), but disease and resistance by the local population delay the establishment of a permanent settlement for 60 years.
A lack of gold and silver makes Costa Rica into a poor and sparsely-inhabited region within the Spanish empire.
1808 - Coffee is introduced into Costa Rica from Cuba and soon becomes the principal crop, its dominance lasting well into the 20th Century.
1821 - Costa Rica declares independence from Spain and joins the Mexican Empire.
1823 - Costa Rica becomes a province of the Central American Federation along with El Salvador, Guatemala, Honduras and Nicaragua.
1838 - Costa Rica becomes a fully independent country.
1849-59 - Costa Rica takes the lead in organising Central American resistance against William Walker, the US adventurer who took over Nicaragua in 1855.
1874 - US businessman Minor Cooper Keith introduces banana cultivation and starts the United Fruit Company.
1948 - Former president Rafael Angel Calderon loses the election by a slim margin and refuses to accept the result; more than 2,000 people are killed in the ensuing 44-day civil war.
1948-49 - A new constitution is adopted, which includes the dissolution of the armed forces.
1985 - US-trained anti-guerrilla force begins operating following clashes with Sandinista troops from Nicaragua.
1987 - President Oscar Arias Sanchez wins the Nobel Peace Prize for his role in ending civil wars in El Salvador and Nicaragua. He wins a second term in 2006.
2000 - Costa Rica and Nicaragua resolve long-standing dispute over navigation along San Juan river, which serves as their border.
2007 - Switches diplomatic allegiance from Taiwan to China in a bid to attract Chinese investment.
2009 - Costa Rica says it is to re-establish ties with Cuba, 48 years after they were broken off in 1961.
2010 - Laura Chinchilla becomes Costa Rica's first female president.
2011 - International Court of Justice orders Nicaragua and Costa Rica to keep troops back from a disputed river border.
2015 - Costa Rica wins a long-standing territorial row with Nicaragua after International Court of Justice rules it has sovereignty over a small patch of wetlands known as Isla Portillo on the San Juan river.
Related Internet Links
The BBC is not responsible for the content of external sites.