Switzerland arrests Guatemala ex-police chief Sperisen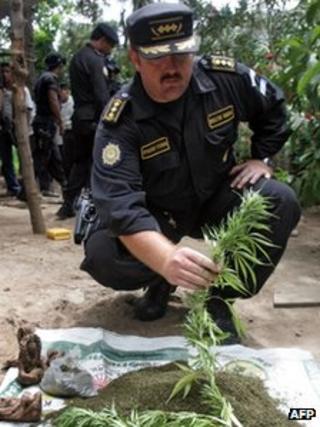 Swiss authorities say they have arrested Guatemala's former police chief, Erwin Sperisen, over the death of seven prisoners in 2006.
He is accused of involvement in the extra-judicial killing of prisoners when security forces stormed the El Pavon prison outside Guatemala City.
Judicial authorities in Geneva say Mr Sperisen will face criminal proceedings in Switzerland.
He cannot be extradited as he also holds Swiss citizenship.
Guatemalan authorities ordered in August 2010 the arrest of 18 former senior officials over the killings at the El Pavon prison outside the capital, Guatemala City.
Investigators say the prisoners were shot dead after security forces stormed the jail and took back control from criminal gangs.
Erwin Sperisen was accused of involvement in other crimes, including ordering the killing of three prisoners who escaped from the El Infiernito jail in 2005.
A statement from the Swiss authorities said his arrest was based on "details provided by the Guatemalan authorities at the end of 2011 and recent developments in the case".
Criminal conspiracy
Corruption, violence and organised crime are rife in Guatemala.
The country also has a long history of impunity, with few cases either coming to trial or resulting in convictions.
The 2010 arrest orders followed an investigation by the UN-backed international commission against impunity in Guatemala (CICIG).
The accused "formed part of a criminal organisation based in the interior ministry and civil police that was dedicated to extrajudicial executions of people detained in prisons," CICIG said in a statement.
The group was also involved in other crimes including "murder, drug trafficking, money-laundering, kidnapping, extortion and the theft of drugs", it further alleged.
Among the accused are the former interior minister Carlos Vielman and former prison service director Alejandro Giammattei - a losing candidate in the 2007 presidential election.
The international commission against impunity in Guatemala was set up by the UN in 2006 to help Guatemala reform its justice system and confront organised criminal gangs that have infiltrated the state.