Mexico 'drug lord' Arellano Felix extradited to US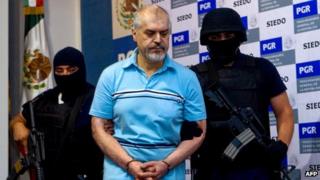 A suspected leader of Mexico's once-notorious Tijuana drugs cartel, Eduardo Arellano Felix, has been extradited to face trial in the United States.
Arellano Felix, 55, was arrested in 2008, after a gun battle with police.
US prosecutors say he and his brothers had been involved in major cartel decisions, including smuggling and distributing drugs in the US.
In April an American court jailed his brother Benjamin - said to be the group's "mastermind" - for 25 years.
Eduardo Arellano Felix will appear in court in San Diego on Tuesday on charges of drugs trafficking, racketeering and money-laundering, prosecutors say.
William Sherman of the US Drug Enforcement Administration (DEA) said his extradition marked "the end of a 20-year DEA investigation into this vicious drug cartel".
Another of Arellano Felix's brothers, Javier, was sentenced to life in prison in San Diego in 2007.
The cartel, also known as the Arellano Felix Organisation, once controlled the flow of cocaine and marijuana from Mexico into California from its base in the border city of Tijuana.
It is said to have tortured and killed rivals in the US and Mexico, including by dissolving the bodies of enemies in vats of corrosives.
But the gang was dealt a major blow by Benjamin Arellano Felix' arrest in 2002, as well as the death the same year of yet another brother, Ramon.