Colombian police search for 'cocaine queen's' killers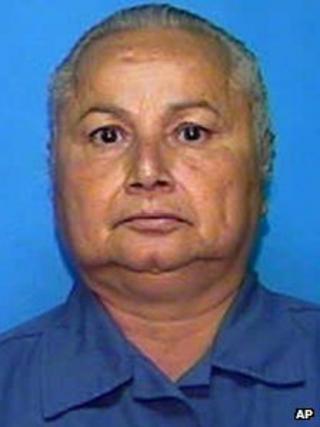 Police in the Colombian city of Medellin are searching for two men who shot dead the convicted drug trafficker Griselda Blanco on Monday.
Eyewitnesses said two gunmen opened fire on Griselda Blanco, also known as "queen of cocaine" or "godmother", outside a butcher's shop in Medellin.
Blanco died of two gunshot wounds to the head on her way to hospital.
She was one of the first Colombians to smuggle cocaine from Colombia to the US on a large scale in the 1970s and 80s.
Police said they had no evidence she had re-offended since her return to Colombia in 2004.
They said she had kept "a low profile" and lived without the luxuries she had enjoyed in her heyday of crime.
Career of crime
Officials estimate that at the height of her trafficking days she may have smuggled about to 1.5 tonnes of cocaine into the US per month.
She also ran one of the most famous cockfighting venues in Medellin, which attracted all the big names from Colombia's drugs underworld.
Her fascination with crime was reflected in the choice of name for her son, whom she called Michael Corleone after the mafia don portrayed by Al Pacino in The Godfather films.
Born in the port city of Cartagena, her family moved to Medellin when she was a child, and it was there that she reportedly started her criminal career as a pickpocket.
In the 1970s, she moved to New York, where she got involved in cocaine trafficking.
She was first indicted in 1975 in Queens, New York, on trafficking charges along with dozens of her alleged gang members, but managed to escape to Colombia.
Cocaine cowboy wars
In the late 1970s she resurfaced in Miami, where prosecutors say her trafficking career took off on a large scale.
US police say she was at the centre of the so-called "cocaine cowboy" violence which hit Miami and Florida in the 1980s, when drug dealers would brazenly shoot each other in public for control of the most lucrative markets and smuggling routes.
In 1985, she was arrested and sentenced for drug trafficking.
While in prison, she was indicted on three murder charges dating back to 1982.
Two of the charges were related to the killing of the brothers Alfredo and Grizel Lorenzo, who had allegedly failed to pay Blanco for a cocaine shipment they had received from her.
The third charge alleged she had ordered the shooting of Jesus Castro, who had worked for Blanco. Gunmen opened fire on his car, missed Jesus Castro and hit his two-year-old son instead.
Blanco entered a plea deal and served almost two decades in jail before her deportation to Colombia in 2004.