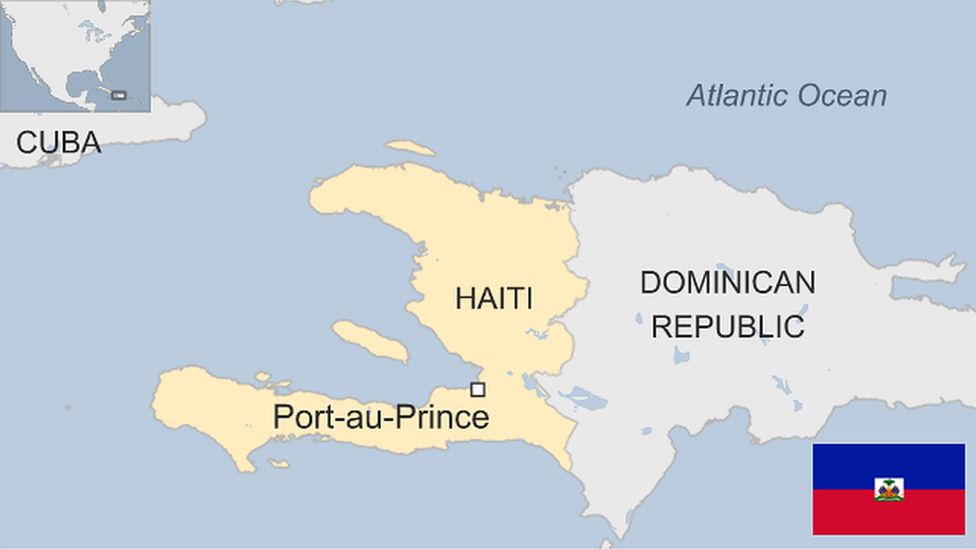 Haiti became the world's first black-led republic and the first independent Caribbean state when it threw off French colonial control and slavery in the early 19th Century.
But independence came at a crippling cost. It had to pay reparations to France, which demanded compensation for former slave owners. The 19th Century "independence debt" was not paid off until 1947. There have been recent calls for France to repay the money.
Chronic instability, dictatorships and natural disasters in recent decades have left it as the poorest nation in the Americas.
An earthquake in 2010 killed more than 200,000 people and caused extensive damage to infrastructure and the economy.
A UN peacekeeping force was put in place in 2004 to help stabilize the country, and only withdrew in 2017.
In July 2021, President Jovenel Moïse was assasinated by unidentified gunmen in the capital, Port-au-Prince. Amid political stalemate, the country continues to be wracked by unrest and gang violence.
Capital: Port-au-Prince
Area: 27,800 sq km
Population: 11.3 million
Languages: French, Haitian Creole
Life expectancy: 62 years (men) 66 years (women)
Acting President and Prime Minister: Ariel Henry
Following the assassination of President Jovenel Moïse in July 2021 by unidentified gunmen, the interim prime minister Claude Joseph assumed control as acting president but then yielded the presidency and prime ministership to prime minister-designate Ariel Henry.
On 21 December 2022, Henry along with representatives of political parties, civil society organizations and private sector signed an agreement to hold the general elections in 2023, with the new government taking office in February 2024.
Critics have accused him of involvement with Joseph Felix Badio, one of the main suspects in the assassination of President Moïse. He has dismissed the allegations of his involvement in the killing of Moïse as "fake news".
Henry has stated that he was willing to hand over suspects to the United States, and stated that he supported appointing a judge from another country to oversee the case independently in Haiti.
Radio is Haiti's leading news medium and there are hundreds of local, privately-owned stations.
The media reflect a range of views but the work of journalists is hampered by threats and violence, press watchdogs say.
Some key dates in Haiti's history:
1492 - Christopher Columbus lands and names the island Hispaniola, or Little Spain.
1496 - Spain establishes first European settlement in western hemisphere at Santo Domingo, now capital of Dominican Republic.
1697 - Spain cedes western part of Hispaniola to France, and this becomes Haiti.
1801 - A former black slave who became a guerrilla leader, Toussaint Louverture, conquers Haiti, abolishing slavery and proclaiming himself governor-general of an autonomous government over all Hispaniola.
1804 - General Jean Jacques Dessalines proclaims the independent black republic of Haiti after rebel slaves defeat French troops dispatched by Napoleon Bonaparte. Haiti is the first nation ever to successfully gain independence through a slave revolt.
1915 - US invades following unrest that it thought endangered its property and investments in the country.
1934 - US withdraws troops from Haiti, but maintains fiscal control until 1947.
1957 - Francois "Papa Doc" Duvalier wins elections. He eventually turned his administration into a brutal dictatorship.
1971 - Papa Doc dies and is replaced by his son Jean-Claude "Baby Doc" Duvalier.
1986 - President Duvalier is forced into exile by an uprising, ending a 29-year family dictatorship.
1990 - Populist priest Father Jean-Bertrand Aristide is the landslide winner in a presidential election, Haiti's first free and peaceful polls.
1991 - President Aristide is overthrown by the military.
1994 - 20,000 US troops arrive to restore democracy. Jean-Bertrand Aristide returns.
2004 - President Aristide leaves Haiti again amid a rebellion. US Marines land to restore order. A UN stabilisation force is put in place.
2010 - More than 200,000 people are killed when a magnitude 7.0 earthquake hits the capital Port-au-Prince and its wider region - the worst in Haiti for 200 years.
2016 - Hurricane Matthew, the strongest to hit the region in a decade, kills hundreds in Haiti and destroys thousands of homes.
2021 - Unidentified gunmen attack the home of President Jovenel Moïse in the capital, Port-au-Prince, killing him.
Related Internet Links
The BBC is not responsible for the content of external sites.