Colombian guerrilla deserter helps Ecuadorean hostage escape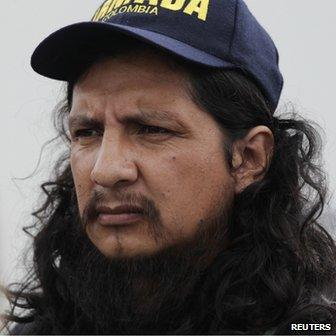 An Ecuadorean engineer kidnapped two years ago by Colombian rebels says he managed to escape from captivity thanks to a deserter who led him to safety.
Orlando Ibarra said rebels from the left-wing National Liberation Army (ELN) were preparing to begin a march when one of them approached him and asked if he wanted to go home.
The pair escaped and walked for hours in Colombia's south-western jungle area until getting a mobile phone signal.
Soldiers then came to their rescue.
The deserter, whose name has not been disclosed, will be given a new identity in accordance with Colombia's guerrilla demobilisation plan.
Correspondents say hundreds of Colombian left-wing rebels have deserted in the past, but it is very unusual for them to help hostages escape with them.
Mr Ibarra was seized in August 2010 from his office in the city of Ipiales, near the Ecuadorean border.
He said the rebels from the National Liberation Army made contact with his family and when his father agreed to pay the ransom requested for his release, the rebels killed him.
Mr Ibarra said they kept the money and continue to ask for more.
"They were very greedy. They were not interested in the welfare of the Colombian people or the poor," he told Colombian television.
Mr Ibarra said one of the rebels came to him as the group was set to move to a new area in the jungle and asked: "Brother, would you like to go home?"
He said he thought the rebel might shoot him on the back if he tried to escape, but agreed to go with him.
They walked for four hours in Colombia's Narino region before eventually being rescued by four helicopters and 45 troops.
Orlando Ibarra described the rebel as "an envoy of God".
In Ecuador, Foreign Minister Ricardo Patino welcomed the news.
The former hostage's ordeal, he said, "was anguish both for his family and for Ecuador".
Colombia's largest rebel group, the Farc, has agreed to take part in peace talks with the government. The first talks will take place in the Norwegian capital, Oslo, on 8 October.
But the ELN, which is believed to have some 3,000 fighters, has refused to discuss an end to its campaign.