Chile court confirms Salvador Allende committed suicide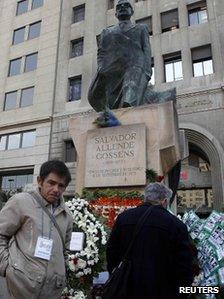 A Chilean court has confirmed that President Salvador Allende killed himself in 1973 as troops attacked the presidential palace to oust him.
Official reports, accepted by his family, had concluded that his death was suicide but his body was exhumed in 2011 to settle lingering doubts.
The court's ruling came as Chileans marked the anniversary of the 11 September coup.
Violence broke out and police said an officer had died after being shot.
The officer, named as Cristian Martinez Badilla, was hit during disturbances on the outskirts of the capital, Santiago.
There were also clashes in Santiago, as hooded protesters blocked traffic and started fires, and police responded with tear gas. Violence was also reported in other cities, including Valparaiso and Valdivia.
The unrest happened as Chileans remembered the events of 11 September 1973 when troops under Gen Augusto Pinochet attacked the presidential palace with air force jets and tanks.
Inside was President Allende, the country's first left-wing leader. According to official accounts he shot himself as troops stormed the building.
The Allende family has always accepted this version. But some of his supporters suspected he had been killed by soldiers.
Last year, his family agreed to have his body exhumed so that an international team of experts could determine the cause of death.
Their report concluded that Allende was killed by two bullets shot from a rifle set on automatic held between his legs.
On Tuesday, a Chilean appeals court closed the re-examination of his death, upholding the findings that it was suicide.
Allende introduced a number of economic reforms, including the nationalisation of the mining industry, that angered the opposition and the US government of the time.
A series of strikes paralysed the country and left the capital isolated in the tense days that preceded the coup.
Gen Pinochet ruled for 17 years, during which more than 3,000 political opponents were killed or "disappeared" by the military.
Related Internet Links
The BBC is not responsible for the content of external sites.