Mexico police arrest 'gang boss' Ramiro Pozos Gonzalez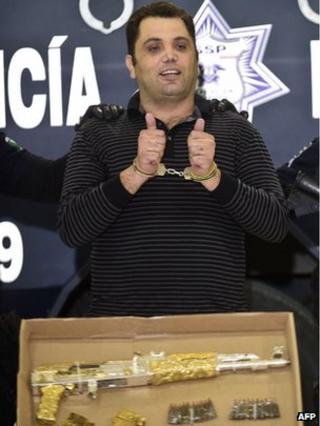 Police in Mexico have arrested the alleged leader and founder of a criminal group known as La Resistencia.
Ramiro Pozos Gonzalez, who is accused of drug trafficking and murdering members of rival gangs, was detained in a central Mexico state.
Police also seized a gold-plated rifle, which reportedly had been a present to Mr Pozos from a fellow drug baron.
Mr Pozos was defiant, giving the thumbs up and smiling when he was paraded in front of the media.
Gang warfare
Counter-narcotics Police Chief Ramon Eduardo Pequeno said Mr Pozos had been a member of the Milenio drug cartel, smuggling marijuana and other drugs from Mexico to Texas, in the United States.
Mr Pequeno said that after a split in the Milenio cartel, Mr Pozos set up the La Resistencia (The Resistance) splinter group.
The splinter group is blamed for much of the gang warfare in the western state of Jalisco over the past two years.
Police say La Resistencia was behind a series of illegal roadblocks and attacks in Jalisco, and the state capital Guadalajara, last year.
Mr Pozos is also accused of kidnapping and extortion.
More than 55,000 people are estimated to have been killed in drug-related violence since President Felipe Calderon declared war on the drug cartels in 2006.
Combating drug-related violence will be one of the main challenges facing the president-elect, Enrique Pena Nieto, when he is sworn in on 1 December.