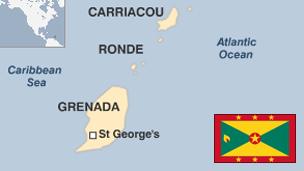 The tiny Caribbean island of Grenada is one of the smallest independent countries in the western hemisphere.
Known as the Spice island, it is the world's second-largest producer of nutmeg after Indonesia and a significant producer of mace, cinnamon, ginger and cloves. It also boasts beautiful scenery with fertile valleys, rainforests and mountain lakes and its tropical climate and excellent beaches are a big draw for tourists.
Grenada made international headlines in 1983 when a split in the governing left-wing party led to the overthrow and execution of the country's charismatic leader Maurice Bishop and provided the pretext for a US invasion of the island. Free elections were reinstituted a year later and have continued since then.
Most of the population is of African or mixed African and European descent.
Head of state: King Charles III, represented by a governor
Prime Minister: Dickon Mitchell
Dickon Mitchell's National Democratic Congress won the June 2022 general election with slightly over 51% of the popular vote and winning nine out of the fifteen available seats - defeating the veteran politician Keith Mitchell, who had served five times as Grenada's prime minister.
The 44-year-old pledged to end nepotism and corruption, which he said was hampering the growth of the tri-island nation.
Dickon Mitchell's election victory came as Grenada faces the challenge of creating job opportunities in a country grappling with high inflation and rising unemployment.
Grenada has a high level of media freedom, guaranteed in the constitution. The country has no daily newspapers; its privately-owned weeklies freely criticise the government.
A public-private partnership, the Grenada Broadcasting Network, provides radio and television stations. MTV is privately owned and there are several privately-owned radio stations.
There were 69,000 internet users by March 2019, about 63% of the population (InternetWorldStats).
Some key events in the history of Grenada:
700 - First inhabited by Arawak-speaking Amerindians from South America who are displaced by Carib settlers.
1498 - Christopher Columbus visits the island but it remains uncolonised.
1649 - The French gain control, establish sugar estates and import thousands of African slaves.
1763 - The British assume control and vigorously expand sugar production and introduce cotton, cacao and nutmeg.
1950s - National politics develops through the labour movement. Pro-independence Grenada United Labour Party is formed.
1967 - Britain gives Grenada autonomy over its internal affairs.
1974 - Independence from Britain and Eric Gairy becomes Grenada's first prime minister.
1979 - Gairy is deposed in a coup by opposition leader Maurice Bishop, whose Marxist military council forges links with Cuba.
1983 - Bishop is overthrown in a military coup and executed. The US invades Grenada with six other Caribbean nations.
1984 - Democracy returns after 1974 constitution is reinstated and free elections are held.
2004 - Hurricane Ivan devastates Grenada, damaging 90% of the island's buildings and devastating its nutmeg crop.
2009 - The last seven of the 17 men convicted over the 1983 coup and murder of PM Maurice Bishop are released from prison after serving out their sentences.
2013 - The opposition New National Party wins a landslide victory in parliamentary elections, taking all 15 contested seats. Keith Mitchell returns as prime minister.
2022 - Dickon Mitchell's National Democratic Congress wins the June general election.
Related Internet Links
The BBC is not responsible for the content of external sites.