Colombian drug baron captured in public phone booth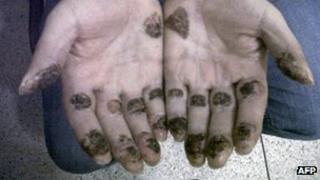 Security officials say they captured one of the most wanted Colombian men while he was making a call in a public telephone booth in Venezuela.
Mr Barrera, who is accused of being one of the most powerful drug kingpins, was arrested on Tuesday.
Police also described the lengths to which Mr Barrera, 50, went to disguise his appearance.
They said he had plastic surgery and burnt his fingertips with acid to avoid being identified.
Venezuelan Interior Minster Tarek El Aissami said police had been monitoring 69 public telephones Mr Barrera was using to communicate.
According to the authorities, Mr Barrera only ever used public telephones to communicate with his family and allies, in an attempt to avoid being traced by police.
'Nowhere to hide'
Colombian Police Director Jose Leon Riano described the operation, which was carried out with the help of British, US, Colombian, and Venezuelan officials as "great triumph of international co-operation".
He said it had been co-ordinated from Washington to prevent any possible leaks.
Gen Leon Riano said it proved that drug lords had nowhere to hide.
He described how a group of police officers had monitored Mr Barrera's conversations from a hotel room in Venezuela, recording and tracing his every call.
He told reporters at a news conference in Washington that an informant close to Mr Barrera had confirmed the information the agents had gathered, leading to Mr Barrera's capture.
The US had offered $5m (£3m) for information leading to his arrest and Colombia added an additional $2.7m to that reward.
Gen Leon Riano said the reward would be paid out to those who had provided the crucial information, without giving details of who they were.
According to police, Daniel Barrera was carrying fake identification when he was arrested.
They also released pictures of his burnt fingertips, which they said he had dipped in acid to make it more difficult to identify him through fingerprinting.
Colombian President Juan Manuel Santos said Barrera had "dedicated 20 years to doing bad things to Colombia and the world, all types of crime, perverse alliances with paramilitaries, with the Farc [rebel group]".
He had allegedly forged alliances with left-wing Farc rebels, right-wing paramilitaries and corrupt security officials to smuggle huge quantities of cocaine to the US, Africa and Europe over a period of two decades.
Colombian Justice Minister Ruth Stella Correa said she would ask for Mr Barrera to be extradited to Colombia.