Antonio Trejo, Honduras rights lawyer, killed at wedding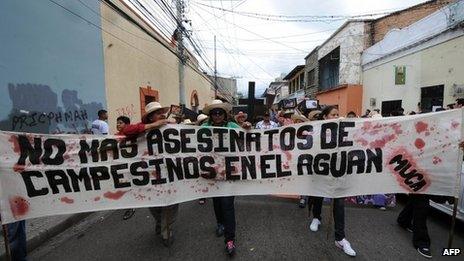 A human rights group in Honduras says a prominent lawyer who represented peasants in disputes with large land owners has been killed.
Antonio Trejo was shot dead by unknown gunmen after walking outside the church, where he was attending a wedding, to answer a phone call.
Mr Trejo represented lands rights groups in the Bajo Aguan, a fertile palm-oil-producing region.
Dozens of people have been killed in land conflicts there in recent years.
A statement by the Peasants Movement of the Valley of Bajo Aguan, known by its Spanish acronym, Marca, says he was shot five times outside a church in Tocontin, in the outskirts of the capital, Tegucigalpa.
He was taken to a nearby hospital but died of his wounds.
Human rights groups have called on the Central American government to investigate the deaths of dozens of peasants and campaigners in the Bajo Aguan area, in Honduras' northern Colon department.
"Many victims were members of peasant associations who were allegedly gunned down by security guards working for the enterprises."
The palm oil produced in the area is used mostly to make biofuels for vehicles.
President Porfirio Lobo's government says criminal gangs, who claim to be peasants, are to be blamed for many of the conflicts in the region.
Antonio Trejo also spoke out against a government project to build privately run cities in Honduras, with their own police and tax system.
Just hours before being killed, Trejo had taken part in a televised debate in which he accused politicians of using such projects to raise campaign funds, says the AP news agency.
Honduras has the world's highest murder rate: 86 murders per 100,000 people.