Freed Brazilian death squad leader killed in Sao Paulo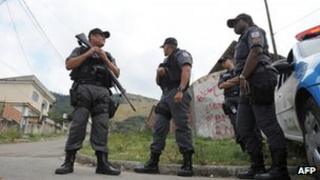 Police in Brazil are searching for the killers of the former head of a Sao Paulo death squad who was shot a month after being released from a lengthy jail term.
Florisvaldo de Oliveira, an ex-policeman known as Corporal Bruno, had served nearly 30 years for murdering at least 50 people.
He was shot dead in an ambush as he drove his family home from church.
During his jail sentence, he became pastor of an evangelical church.
Corporal Bruno was first arrested in 1983.
He was sentenced for leading a group that killed dozens of people and also extorted shop owners in the outskirts of Brazil's largest city.
He served 27 years of his sentence and was released early from prison on the grounds of good behaviour. He left jail on 23 August.
"Extra-judicial killing"
Corporal Bruno was driving near his home on Wednesday night in Sao Paulo state when two gunmen stopped his car and fired more than 20 shots at him.
No one else was hurt in the attack in the city of Pindamonhangaba.
"All the signs seem to indicate that it was an extra-judicial killing, but we will only find out after the police investigation," said Lt Mario Tonini.
The involvement of Brazilian police officers in death squads and other criminal organisations during the military government in the 1960s and the 70s is well documented.
The situation has changed and the police have worked on a number of confidence-building initiatives in their communities.
But the human rights group, Amnesty International, says the problem still persists in many parts of the country.
"Police officers were believed to be involved in death squads and milicias [militias] engaged in social cleansing, extortion, as well as in trafficking in arms and drugs," says Amnesty's latest report on Brazil.
"In Sao Paulo a report by the civil police attributed 150 deaths between 2006 and 2010 to death squads in the north and east of the city."