Brazil jail massacre: Vigil marks Carandiru anniversary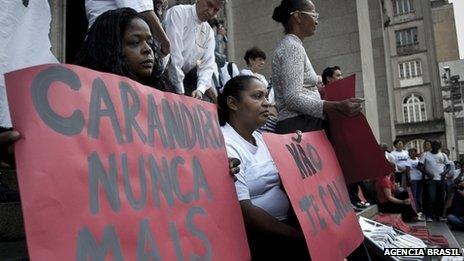 Hundreds of people in the Brazilian city of Sao Paulo have held a multi-faith ceremony to mark the 20th anniversary of an infamous prison massacre.
Riot police killed 111 inmates after entering the Carandiru jail, in central Sao Paulo, to put an end to a riot.
Relatives and human rights activists are demanding justice, saying the inmates were shot at point-blank range.
The police officers involved in the killings say they were obeying orders.
Last week, authorities set a trial date in January 2013 for dozens of policemen involved in the operation.
Colonel Ubiratan Guimaraes, who commanded the raid, was convicted in 2001 for using excessive force but was acquitted on appeal in 2006.
He was found dead in his flat months after having his conviction overturned. No-one else has been convicted over the killings.
Prison riots are common in Brazil's overcrowded jails, but the "Carandiru massacre", as it soon became known, shocked the country in 1992.
The riot began with a row between two prisoners over a football match they had played in their recreation time.
It soon degenerated into a fight between rival gangs.
Riot police were accused of using extreme brutality to deal with the situation.
"We never thought they would come in and kill people randomly, as not everyone had joined the rebellion," 47-year-old Jacy de Oliveira, a survivor, told BBC Brasil's Luis Kawaguti.
"The policemen began shooting everyone. I was on the 5th floor. If you looked a policeman in the eyes, you were dead."
Mr Oliveira said many inmates were also killed by police dogs: "They unleashed their dogs in the barber shop, which is where the wounded prisoners had been taken to."
Jacy de Oliveira, who later became an evangelical pastor, described his survival as a miracle.
He says sending the policemen to prison will do nothing to solve the main problem, which is overcrowding and poor conditions in Brazil's jails.
Brazil has more than 500,000 inmates, the fourth largest prison population in the world.
Carandiru had 10,000 prisoners in 1992. It saw several riots before the prison was finally closed and the buildings demolished in 2002.