Colombia peace talks announcement 'on 17 October'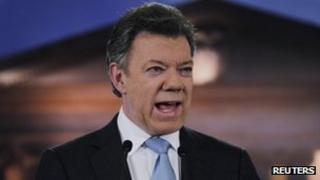 Long-awaited peace talks between the Colombian government and Farc rebels are set to begin by 17 October, a week later than originally planned.
The Norwegian government, which is hosting the first phase of the talks, said the two sides had agreed to hold a news conference in Oslo on that date.
The ground-breaking negotiations - the first direct talks in a decade - are then expected to move to Cuba.
The Farc has been fighting the Colombian state since 1964.
A statement from the Norwegian foreign ministry said the Colombian government and the Farc had announced that they would hold a news conference on 17 October.
Diplomatic sources said it was expected contacts between the two sides would begin two days earlier.
This follows a statement earlier in the week from Farc leaders which said talks would begin then, not on 8 October as first announced.
Representatives are currently in Havana, together with Norwegian and other diplomats, preparing for the official talks.
The two sides announced in late August that they were embarking on renewed peace moves, the first since 2002.
President Juan Manuel Santos has said he is "cautiously" optimistic about the prospects for peace.
But he has rejected rebel calls for a ceasefire, saying military operations would continue until a final agreement is reached.
The Farc (Revolutionary Armed Forces of Colombia) is the country's oldest and largest guerrilla group.
The group's numbers have fallen from some 16,000 a decade ago to 8,000 today, but rebel activity has increased in recent months, especially in the south of the country.