Brazil Mensalao trial: Judges split over Lula aide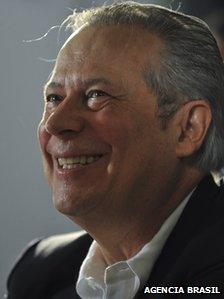 Two of Brazil's top judges are split over the role played by a key adviser to former President Luiz Inacio Lula da Silva in a major corruption scandal.
Jose Dirceu was cleared by Justice Ricardo Lewandowski, who said there was insufficient evidence against him.
The rapporteur of the case, Joaquim Barbosa, had ruled on Wednesday that Mr Dirceu had played a central role in the scandal.
A total of 10 Supreme Court judges are returning verdicts in the case.
He faces a jail sentence if a majority of the judges find him guilty.
Mr Dirceu, who denies any wrongdoing, was Lula's chief of staff between 2003 and 2005, when he resigned.
The scandal became known in Brazil as Mensalao or the "Big Monthly" allowance, and it nearly brought down the government.
The central allegation is that illegal payments and benefits were paid to Congressmen in return for support for the government in crucial votes.
Judge Lewandowski, who is assessing the initial report, said prosecutors had failed to produce substantial evidence against Mr Dirceu.
"I do not rule out the possibility, in principle, that he took part in the operation. But it is all based on hearsay and assumptions," he said.
The accusations against the former chief of staff are politically motivated, Judge Lewandowski added.
Two other judges, Rosa Weber and Luis Fux, have followed the rapporteur's findings and ruled that Mr Dirceu is guilty of corruption.
The case, with 37 defendants, is seen as a key test of Brazil's ability to hold its politicians to account for corruption.
Some of the defendants, who include politicians and business executives, say the scandal is being exploited by opposition politicians and sections of the media.
They say that the scheme was simply a way of paying off campaign debts which, while illegal, is common in Brazilian politics.
Others deny any involvement in buying political support.
A majority of the judges have already rejected claims by the defence that no vote-buying scheme existed.
Lula is not directly implicated in the case and has denied any knowledge of the scheme.
He left office at the end of 2010 with huge approval ratings, and remains a popular figure in Brazilian political life.
However, analysts say a series of guilty verdicts may tarnish his reputation.
The case reaches a decisive moment just ahead of important local elections on Sunday.
Related Internet Links
The BBC is not responsible for the content of external sites.