Cuban dissident blogger Yoani Sanchez arrested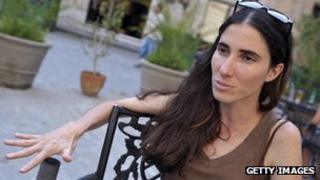 Cuban dissident blogger Yoani Sanchez has been arrested in Cuba's eastern city of Bayamo, a pro-government website said.
Ms Sanchez is known for highlighting issues affecting young Cubans on the communist-run island.
She was detained on her way to the trial of Spaniard Angel Carromero.
Mr Carromero faces manslaughter charges over the July death of high-profile oppositionist Oswaldo Paya.
Ms Sanchez's Twitter account has not been updated since Thursday and the BBC's correspondent in Havana, Sarah Rainsford, said her mobile phone was unreachable and appeared to have been cut-off.
Her final Tweets were sent while she was on her car journey to Mr Carromero's trial, which started on Friday at about 14:00 GMT.
The pro-government blog, Yohandry.com, said she was arrested with her husband because they planned a "provocation" and "media show" that could endanger the credibility of the trial.
Sensitive trial
Mr Carromero has been in police custody since 22 July when a car he was driving hit a tree and crashed, killing two passengers - Mr Paya and another Cuban activist, Harold Cepero.
Yohandry.com also accused Ms Sanchez of trying to manipulate the truth of the car crash.
Prosecutors are seeking a seven year jail sentence for 27-year-old Mr Carromero, who is being tried for involuntary manslaughter.
Mr Paya's family dispute the circumstances around the 60-year-old's death and have alleged the vehicle was deliberately forced off the road.
In February Ms Sanchez, who writes the prize-winning blog Generacion Y, was denied a request for an exit visa to travel abroad, for the 19th time.
Last week she filed a complaint against Cuba with the Inter-American Human Rights Commission for being denied permission to leave the country, her lawyer said, according to the AFP news agency.
Oswaldo Paya was best known as the founder of the Varela project, a campaign begun in 1998 to gather signatures in support of a referendum on laws guaranteeing civil rights.
The Cuban government described him as an agent of the US who was working to undermine the country's revolution.