Peru profile - Leaders
President: Ollanta Humala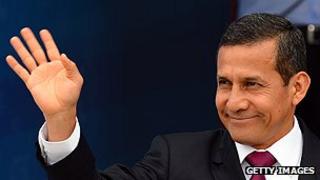 Ollanta Humala, a career army officer, won the June 2011 presidential election after promising to respect democracy and spread the benefits of a decade-long economic boom to the poor.
He narrowly beat Keiko Fujimori, the daughter of jailed former President Alberto Fujimori.
As Mr Humala emerged as victor in the polls, financial markets plunged on fears that he would ruin the economy.
In 2015, he faced the toughest challenge of his presidency when the opposition-dominated Congress passed a vote of no-confidence in Ana Jara - the sixth prime minister to serve under Mr Humala.
Ms Jara was censured over allegations that Peru's intelligence agency had for years gathered information on leading figures in business and politics.
The setback came as opinion polls put public support for Mr Humala at 25%, and followed a series of corruption scandals in his cabinet.
Mr Humala, 48 at the time of his election, burst onto the political scene in 2000 when he led a short-lived bloodless revolt to demand that former President Fujimori resign after 10 years in power. In the 1990s, he fought in the jungle against Shining Path guerrillas.
Uprising
He comes from a family of prominent radicals. His brother, Antauro Humala, led a failed uprising in 2005 against former President Alejandro Toledo's government and was jailed for the violent protest that killed four police officers.
His father, Isaac Humala, is a central figure in an ethnic movement that seeks to reclaim Peru's Incan glory by spurning foreign interests.
In 2006, Humala narrowly lost the presidential election to Alan Garcia. He campaigned in a red polo shirt and called for a dramatic transformation in the style of Venezuelan President Hugo Chavez's declared "socialist revolution".
Since then he has recast himself as a family man. He has softened his radical image and disavowed his affinity for Mr Chavez.
He promises Peru's poor a greater share of the country's considerable mineral wealth and pledged to honour the free market but put Peruvians first.
Prime Minister (resigned): Ana Jara
Peru is unusual among South American countries in having the post of prime minister.
Employment Minister Ana Jara was appointed as the sixth Peruvian prime minister in less than three years, following the resignation of Rene Cornejo in July 2014.
Mr Cornejo had stepped down following allegations that one of his advisors offered money to discredit a political opponent.
Less than a year later, Ms Jara herself stepped down after losing a vote of confidence in Congress.
The legislature voted to censure him over allegations that Peru's intelligence agency had for years gathered information on leading figures in business and politics.
Ms Jara trained as a lawyer and served as minister of women and social development from 2011 to 2014.