Argentina army officers jailed over 'Trelew massacre'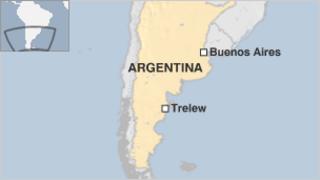 Three ex-army officers in Argentina have been sentenced to life for crimes against humanity over the killing of 16 jailed rebel fighters in 1972.
The victims were shot at an air base near the city of Trelew after a failed jailbreak in what became known as the "Trelew massacre".
Two other officers charged in the case have been acquitted.
The massacre came amid escalating violence that led to the 1976 military coup and the subsequent "dirty war".
Last year, several high-profile army officials were tried over their role in the crackdown against activists and militants during 1976-82.
The officers convicted on Monday were named as Luis Sosa, Emilio Del Real and Carlos Marandino.
The prisoners killed in August 1972 were among 27 rebels who escaped from Rawson Penitentiary in the capital of Argentina's Chubut Province.
Soldiers recaptured 19 of the runaways and transferred them to an air base near Trelew.
Army officers executed 16 of the prisoners in retaliation for the successful escape of some of their comrades.
"The court sentenced to life in prison the three military officers for 16 aggravated homicides," court director Andrea Gualde told reporters in the southern town of Rawson.
"The circumstances were described as crimes against humanity."
Argentina was riven with violent unrest in the 1960s and 1970s.
During the seven-year rule of the military junta, an estimated 30,000 people were kidnapped, tortured and killed by the junta.
Following the return to civilian rule in 1983, some leading members of the military were tried but then granted amnesties.
More than 20 years on, the amnesties were ruled unconstitutional, clearing the way for trials to resume.
In May last year, a court in northern Argentina sentenced eight ex-army officers to life in jail for killing unarmed activists during military rule.