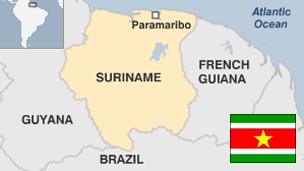 Suriname, once known as Dutch Guiana, is one of South America's smallest countries. It enjoys a relatively high standard of living but also faces serious political and economic challenges.
Since independence from the Netherlands in 1975, Suriname has endured coups and a civil war. Suriname is one of the most ethnically diverse countries in the Americas.
Most of its people are descended from African slaves and Indian and Javanese indentured labourers brought over by the Dutch to work in agriculture. Most political parties are ethnically based.
Gold, oil and agriculture are key economic sectors. Bauxite mining has gone into decline. Efforts have been made to diversify the economy.
Republic of Suriname
Capital: Paramaribo
Population 534,000

Area 163,265 sq km (63,037 sq miles)

Major languages Dutch (official), English, Sranang Tongo, Hindi, Javanese

Major religions Hinduism, Islam, Christianity

Life expectancy 68 years (men), 74 years (women)

Currency Suriname dollar
Parliament elected former police chief Chandrikapersad "Chan" Santokhi to the presidency in July 2020. He stood unopposed.
He took over from controversial arch-rival Dési Bouterse, who had served as elected president since 2010 and military ruler in 1980-1987. Mr Santokhi's centre-left Progressive Reform Party won the parliamentary elections in May 2020.
It was his investigation that had secured a murder conviction against President Bouterse the previous year.
Reporters Without Borders praises Suriname's varied media landscape.
State-run broadcasters operate alongside private radio and TV stations.
There were 428,000 internet users by June 2022, some 72% of the population. (InternetWorldStats.com)
Some key dates in Suriname's history:
1593 - Spanish explorers visit the area and name it Suriname, after the country's earliest inhabitants, the Surinen.
1600-1650 - Settlements attempted by Spanish, Dutch, British and French during the first half of the 17th century. They all fail, in part because of resistance by the native inhabitants.
1651 - First permanent European settlement in Suriname, established by the British at Paramaribo.
1667 - Suriname is seized by the Dutch who remain in control until independence 1975.
1916 - Aluminium Company of America (Alcoa) begins mining bauxite - the principal ore of aluminium - which gradually becomes Suriname's main export.
1975 - Independence. More than a third of the population emigrates to the Netherlands.
1980 - First of several coups.
1986 - Surinamese Liberation Army (SLA), composed mostly of descendants of escaped African slaves, begins guerrilla war with the aim of restoring constitutional order. A peace accord is achieved in 1992.
2020 - Controversial leader Dési Bouterse retires from public life following a murder conviction the previous year.
Related Internet Links
The BBC is not responsible for the content of external sites.