Two more Germans held over Dominican Republic 'sect' shootout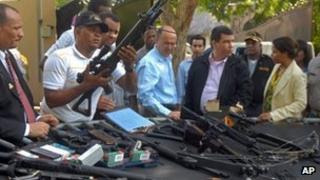 The Dominican Republic authorities have arrested two more German suspected doomsday cult members over a deadly shootout earlier this week.
Daniel Brunck and Isabella Dietrich were ordered by a judge to stay in preventative detention while a police investigation continued.
They joined Peter Brunck, Daniel's father, who had been held earlier.
Peter Demetrick, also a German citizen, was killed in the shootout in the northern town of Sosua on Wednesday.
Police later seized rifles, grenades and crossbows in the exclusive neighbourhood in the seaside town popular with German immigrants.
'Very dangerous'
On Friday, the judge in Sosua ordered the arrest of Daniel Brunck and Isabella Dietrich, who is believed to have been Mr Demetrick's girlfriend.
They could remain in police custody for up to a year while investigations proceed.
Peter Brunck, the alleged leader of the Academy for the Future of Health sect, was wearing a bullet-proof vest when police stormed the house in Sosua, some 225km (140 miles) north of the capital Santo Domingo.
Ms Dietrich also had a bullet-proof vest and reportedly shot at the police.
The police were called in by neighbours who heard shots coming from the house.
General Prosecutor Francisco Dominguez Brito said they had found "many weapons" and other items that he said he could not release details about.
Prosecutors have described the sect as "very dangerous", saying that initial investigations showed it had links to a number of European countries.