Trinidad and Tobago country profile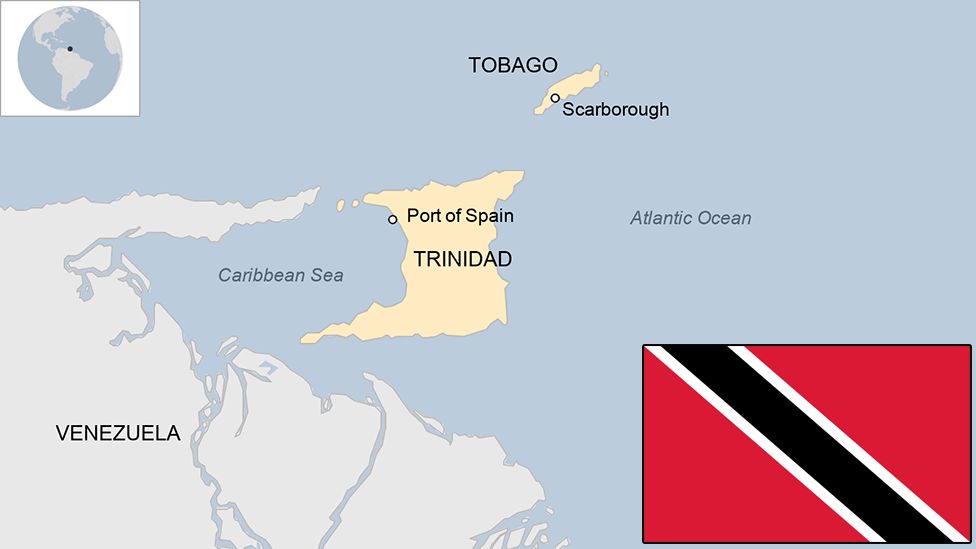 Trinidad and Tobago is one of the wealthiest countries in the Caribbean, thanks to its large reserves of oil and gas, the exploitation of which dominates its economy.
Inhabited mostly by people of African and Indian descent, the two-island state enjoys a per-capita income well above the average for Latin America and the Caribbean.
Dependence on oil has made the country a hostage to world crude prices, whose fall during the 1980s and early 1990s led to the build-up of a large foreign debt, widespread unemployment and labour unrest.
As with other nations in the region, Trinidad and Tobago - a major trans-shipment point for cocaine - has been troubled by drug- and gang-related violence, which threatens the tourism industry.
REPUBLIC OF TRINIDAD AND TOBAGO: FACTS
Capital: Port of Spain
Area: 7,768 sq km
Population: 1.5 million
Languages: Trinidadian English, Trinidadian English Creole, Trinidadian Hindustani, Antillean French Creole, Chinese, Arabic, Spanish
Life expectancy: 72 years (men) 79 years (women)
President: Paula-Mae Weekes
Paula Mae-Weekes was sworn in as the country's first female president in March 2018.
Her nomination for the post by the ruling People's National Movement (PNM) was endorsed by the opposition United National Congress party.
She had a long career in the legal profession. She was called to the bar in 1982 and worked as a lawyer and as an appeal judge before her retirement in 2016.
In 2017 she was sworn in as a judge of the Turks and Caicos Islands Court of Appeal, a post she gave up when she was chosen for the presidency.
The president's role is largely ceremonial.
Prime minister: Keith Rowley
Keith Rowley won a second term in office when his governing People's National Movement won the August 2020 general election. This followed his victory in the September 2015 general election.
A volcanologist with a PhD in Geology, specialising in Geochemistry, he first ran for political office in 1981. He served as an opposition senator in parliament from 1987 to 1990 and has been a member of the House of Representatives for Diego Martin West since 1991.
Dr Rowley was first appointed as a cabinet minister in 1992 as minister of agriculture and later went on to hold the planning and development, housing and trade and industry portfolios.
Following the People's National Movement's defeat in the June 2010 elections, he was elected as party leader and as the opposition leader in the House of Representatives.
He was staunchly opposed to then-Prime Minister Kamla Persad-Bissessar's introduction of a state of emergency following an upsurge in crime in 2011 and he filed multiple motions of no-confidence in her government.
Privately-run TV6 dominates the ratings in Trinidad and Tobago. The state-owned Caribbean New Media Group (CNMG) operates a TV network and radio stations.
Some key dates in the history of Trinidad and Tobago:
1498 - Christopher Columbus visits the islands, naming Trinidad after the three peaks at its south-east corner and Tobago after a local type of tobacco pipe.
1532 - Spain colonises Trinidad, appointing a governor to rule it.
1630s - The Dutch settle on Tobago and plant sugar-cane.
1781 - The French capture Tobago from the Spanish, transforming it into a sugar-producing colony.
1797 - A British naval expedition captures Trinidad from Spain.
1802 - Spain cedes Trinidad to Britain under the Treaty of Amiens.
1814 - France cedes Tobago to Britain.
1834 - Slavery abolished. Indentured workers brought in from India to work on sugar plantations.
1889 - Trinidad and Tobago administratively combined as a single British colony.
1945 - Universal suffrage instituted.
1956 - Eric Williams, a moderate nationalist, founds the People's National Movement (PNM).
1958 - Trinidad and Tobago joins the British-sponsored West Indies Federation.
1959 - Britain gives Trinidad and Tobago internal self-government with Williams as prime minister.
1962 - Trinidad and Tobago leaves the West Indies Federation; becomes independent with Williams as prime minister.
1967 - Trinidad and Tobago joins the Organisation of American States.
1968 - Trinidad and Tobago and other English-speaking Caribbean states form the Caribbean Free Trade Area, which was replaced in 1973 by the Caribbean Common Market.
1970 - Government declares a state of emergency after violent protests by "Black Power" supporters who demand a solution to unemployment and an end to foreign influence over the economy. Hundreds of army soldiers mutiny in support, but their rebellion collapses within days.
1972 - State of emergency lifted.
1976 - Trinidad and Tobago becomes a republic.
1990 - More than 100 Islamist radicals blow up the police headquarters, seize the parliament building and hold Prime Minister Arthur Robinson and other officials hostage for several days in an abortive coup attempt.
2007 January - Plans are announced to close the centuries-old sugar industry. Production had been hit by cuts in European subsidies.
2011 - State of emergency imposed, with an overnight curfew in six crime "hotspots", following a spike in violent crime. Prime Minister Kamla Persad-Bissessar says security forces have uncovered a plot by "criminal elements" to assassinate her and several government ministers.
2015 - Jack Warner, a Trinidadian politician and businessman, is one of a number of senior executives from world football's governing body, FIFA, charged by the US with racketeering, fraud and money laundering.
Related Internet Links
The BBC is not responsible for the content of external sites.