Venezuela: Minister Henry Rangel eyes state governorship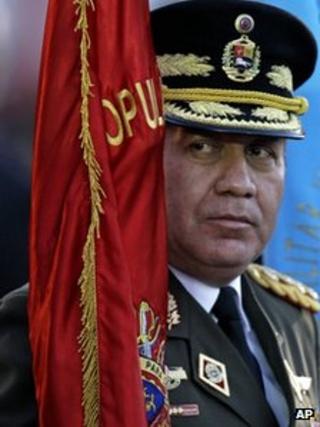 Venezuelan President Hugo Chavez has announced that his current defence minister, Gen Henry Rangel, is to seek election as a state governor.
Mr Chavez said the navy commander, Adm Diego Molera, would be his replacement.
Gen Rangel, a close associate of the president, will run for the governorship of Trujillo in state elections on 16 December.
These polls will take place two months after President Chavez was elected for a fourth term.
Mr Chavez comfortably beat his rival Henrique Capriles, albeit with a smaller margin of victory than in the presidential election of 2006.
The December vote will be a test both for Mr Chavez's United Socialist Party (PSUV) and the coalition of opposition parties that threw its weight behind Mr Capriles.
President Chavez said on Monday that Gen Rangel would be the PSUV's candidate in Trujillo after the current governor, Hugo Cabezas, announced he would not seek re-election.
Gen Rangel had been defence minister since January this year.
In 2008, the US administration accused him of "materially assisting" the drug-trafficking activities of Colombia's Farc rebels.
Gen Rangel and President Chavez have repeatedly denied this.