Nicaragua Sandinistas widen local control with poll wins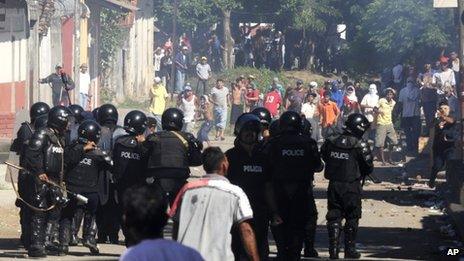 Nicaragua's governing Sandinista party has widened its control at local level, winning 134 of 153 mayoral posts in Sunday's elections, results indicate.
President Daniel Ortega's Sandinistas won some 75% of votes cast, officials said.
The opposition alleged fraud, and the US state department voiced concerns over the electoral process.
At least three people were killed on Monday after clashes erupted between Sandinista supporters and opponents.
Faced with a fragmented opposition, the Sandinista National Liberation Front (FSLN) won 134 municipalities, up from 109 in the last elections in 2008.
The FSLN retained control of the capital, Managua, which they have governed for the past four years.
Turmout was some 57%. Violence in protest at the results broke out in several areas, including Ciudad Dario and La Paz Centro.
Rival sides fought each other and anti-riot police. Three people were reported to have died.
"They are dissatisfied that they [Sandinistas] won the elections freely and correctly and by a considerable margin," Sandinista supporter Francisco Barrios told Reuters in La Paz Centro.
Opposition parties complained that voting lists were incomplete or confusing, and that some people had been allowed to vote more than once.
"We participated because the people should have a choice," Congressman Eliseo Nunez of the opposition Independent Liberal Party told the Associated Press news agency.
"But we know that everything was rigged and the Electoral Council did what Daniel Ortega ordered," he said.
A US state department spokeswoman also cited complaints about the "partisan manner" in which the electoral council had managed the run-up to the poll and election day itself to the Sandinistas' advantage.
President Ortega was re-elected in a landslide victory in 2011, after the Sandinista-controlled Supreme Court overturned a ban on consecutive terms.