Chile cabinet changes signal start of presidential race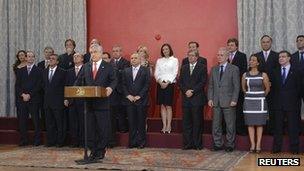 Chilean President Sebastian Pinera has reshuffled his cabinet, as two prominent ministers leave to launch their bids for the presidency in 2013.
Defence Minister Andres Allamand and Public Works Minister Laurence Golborne, who oversaw the spectacular rescue of trapped miners in 2010, both hope to be Chile's next leader.
Mr Pinera is constitutionally barred from a consecutive second term.
Former President Michelle Bachelet has yet to say if she will run.
Ms Bachelet, who was in office from 2006 to 2010, is seen as the left's best hope to regain the presidency.
She is the current head of the UN's women's agency.
Mr Allamand, an experienced politician, and Mr Golborne, a businessman who shot to international prominence during the operation to rescue 33 miners trapped underground two years ago, are hoping to be the conservative coalition's candidate.
President Pinera became Chile's first right-wing leader in 20 years when he was elected in 2010.
However, he has seen his popularity drop sharply since then, and in last month's local elections, his centre-right alliance lost some key races, including Santiago.
After Monday's changes, Interior Minister Rodrigo Hinzpeter moves to defence and is replaced by government spokesman Andres Chadwick.
He in turn is succeeded by the former Governor of Santiago, Cecilia Perez.
Deputy Public Works Minister Loreto Silva takes over from Mr Golborne.