Fifa backs Brazil cities for 2013 Confederations Cup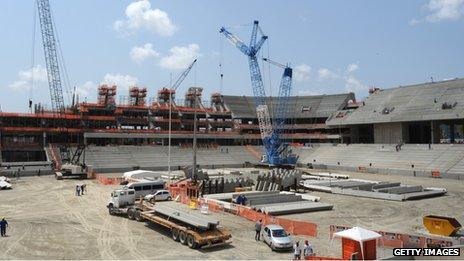 Six Brazilian cities will host the 2013 Confederations Cup football tournament, the warm-up event for the World Cup due to take place in the country in 2014.
Venues in Belo Horizonte, Brasilia, Fortaleza, Recife, Rio de Janeiro and Salvador should be ready by April next year, world football body Fifa said.
Doubts had been raised about Brazil's ability to cope with infrastructure and deadline demands.
The event is seen as a big test in preparation for the 2014 World Cup.
The first match in the Confederations Cup is planned for 15 June, and the two-week tournament will involve six continental champions, 2010 World Cup winners Spain and the host nation.
Fifa normally requires venues to be ready six months ahead of competitions.
But the governing body has made an exception in Brazil's case, saying every stadium would be ready and tested by April - two months before the competition starts, the BBC's Gary Duffy reports from Sao Paulo.
Slow construction progress, particularly in the north-eastern cities of Recife and Salvador, had prompted Fifa to create back-up match schedules for four and five stadiums in case the original six-venue project fell through.
Recife's Arena Pernambuco was more than 70% complete by the end of October according to the construction firm in charge, our correspondent says.
Once finished, the stadium will boast a capacity for 46,000 people and is expected to host five World Cup matches in 2014.
It is the first time that the Confederations Cup is being held on South American soil, as well as taking place in six cities of the same country.
Fifa General Secretary Jerome Valcke said last week that the tournament was "an acid test for Fifa and the host country stakeholders" as practically every aspect of the preparations would come under close scrutiny.
"From electrics to crowd management, from stewards to public transport and parking management, all processes must be well established to ensure that next June - when Brazil will be in the spotlight of the world - we will not face any major operational obstacles," he said.
"We must ensure that fans have an unforgettable experience without any logistical nightmares."
Some 830,000 tickets will be up for grabs for the 16 matches, with sales starting on 3 December.
In total, some 22.4bn reais (£7bn: $11bn) is being invested in World Cup infrastructure projects ranging from airports, roads and public transport to the stadiums themselves, according to the tournament's local organising committee.
Related Internet Links
The BBC is not responsible for the content of external sites.