Ten Colombian farm workers killed 'by extortion gang'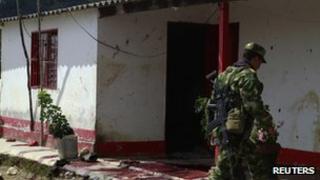 Unidentified gunmen in Colombia have shot dead 10 farm workers in one of the worst targeted killings in years.
A survivor said three men approached the farm's foreman in north-western Antioquia province and asked if the owner had been paying protection money.
In a scene which a local official described as "something out of hell", they then opened fire killing nine men and a woman who were harvesting fruit.
Police suspect a powerful criminal gang may have ordered the killing.
"This is hell, governor," official Santiago Londono told Antioquia's governor, Sergio Fajardo, when he arrived at the farm outside the town of Santa Rosa de Osos.
The mayor of Santa Rosa, Francisco Jair Palacio, said there had been a rise in extortion in the area.
Local businessmen have told of how members of criminal gangs have been going around the area demanding payments, which they adjust according to the earnings of each individual victim.
They say the payments have varied from $50 (£30) for day labourers to $50,000 for owners of large agricultural businesses.
Police General Jose David Guzman said that a number of criminal gangs, including Los Rastrojos and Los Urabenos, were active in the area and could be behind the killing.
Colombian President Juan Manuel Santos has made the fight against the criminal gangs one of his government's priorities.