Colombian 'drug lord' Cifuentes captured in Venezuela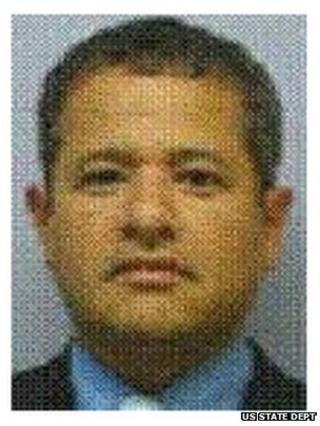 A Colombian man suspected of smuggling more than 30 tonnes of cocaine to the US has been arrested in Venezuela.
Police say Jorge Milton Cifuentes Villa is part of a family of drug smugglers.
His sister Dolly was extradited to the US earlier this year on money laundering charges; his brother Francisco was the personal pilot of Colombian drug lord Pablo Escobar.
The US state department had offered a $5m reward for information leading to Mr Cifuentes Villa's arrest.
The capture was announced by Venezuelan Justice Minister Nestor Reverol on his Twitter account.
Mr Reverol said the details of Mr Cifuentes Villa's arrest would be released at a news conference on Friday.
The arrest comes less than two months after Venezuelan police detained Daniel Barrera, accused of being one of Colombia's most powerful drug kingpins.
Family business
According to the US state department, Mr Cifuentes Villa heads the drug trafficking gang of the same name, which operates in Colombia, Ecuador, Panama, Mexico and Spain.
The US authorities accuse him of financing and coordinating shipments of dozens of tonnes of cocaine by speedboats, fishing vessels and airplanes to the United States via Ecuador and Mexico.
He is suspected of being the main supplier of cocaine to the Sinaloa cartel in Mexico.
Police say he and his sister Dolly took over the drug smuggling operations which were run by their brother Francisco before his murder in 2007.
According to the authorities, Jorge Milton Cifuentes Villa always maintained the profile of a successful businessman.
Rather than surround himself with dozens of bodyguards and drive flashy cars, he preferred to join executive clubs and invested in diverse companies ranging from mining to underwater photography.
Last year, Colombian police seized more than 300 assets belonging to the family, ranging from cars to private Caribbean islands.