Argentina takes ship dispute with Ghana to UN court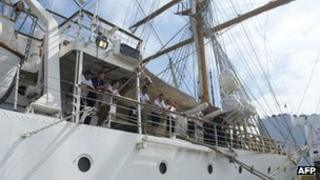 Argentina has asked a United Nations court to order the release of one of its navy ships impounded in Ghana because of a debt dispute.
Argentina argues that the seizure violates maritime law.
The ship was prevented from leaving Ghana last month, after a local court ruled in favour of a financial fund backed by an American billionaire.
The fund says it is owed $370m (£233m) by the Argentine government as a result of its debt default a decade ago.
It is seeking $20m in return for the release of the ship, a three-masted training vessel.
International dispute
Argentine Foreign Minister Hector Timerman said Argentina had approached the International Sea Tribunal, based in Germany, to request the "immediate and unconditional release of the frigate ARA Libertad and its restocking so it can leave the port of Temar [in Ghana] with the utmost urgency".
On Monday, Mr Timerman had given Ghana one day to release the ship or face legal action.
The government said it saw itself forced to take the case to the International Sea Tribunal after the Ghanaian government failed to meet its deadline.
Argentina argues that the ship is a military vessel and was on an official visit to Ghana and should therefore not have been impounded.
It says the seizure violates the immunity of military vessels under international maritime law.
The Libertad has been detained in the Tema since 2 October. Only a skeleton crew remain after more than 300 sailors flew home about three weeks later.
Sailors on board the Libertad reportedly pulled guns on Ghanaian officials last week after they tried to board the vessel to move it to another berth.
Water and electricity had reportedly been shut off to the ship a few days earlier in response to Argentina's refusal to let officials move the ship to a less busy part of the port.
NML Capital is a subsidiary of US hedge fund Elliot Capital Management, one of Argentina's former creditors.
In 2001 and 2002, Argentina defaulted on more than $100bn of debt. Most of these loans were subsequently restructured, giving creditors about 30% of their money back.
However, some creditors including Elliot chose to hold out, pursuing the Argentine government through the courts.